A Taste of Miramichi: O'Donaghue's Irish Pub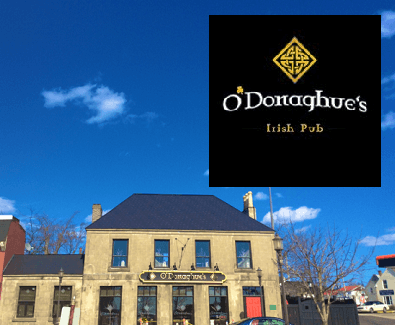 This year, Miramichi will enjoy four weeks of featured menus at 14 restaurants around the river.
A Taste of Miramichi, the Miramichi Chamber of Commerce's dining event, runs from May 15th until June 11th, 2017. Each participating restaurant will showcase a three-course menu (with two options for appetizer, entree, and dessert) which their chefs feel represent their unique "Taste Of Miramichi".
We will be highlighting each restaurant's menu and sharing a video about them.
Today we introduce O'Donaghue's Irish Pub located at 1696 Water Street in Chatham. Chef Lee Jones invites you to join him and his team for a little Taste of Miramichi!
"Miramichi's Irish Heritage is alive at O'Donaghue's Irish Pub! O'Donaghues Pub re-opened Canada Day 2016, and is now officially a member of the Historic Chatham Business District in Downtown Chatham. Drop in for a cold beer or something to eat from our new revamped menu today. Our friendly staff are happy to serve you!"
O'Donaghue's Irish Pub Menu Options:
Appetizer
Scotch egg (There's nothing better than a Scotch egg! A perfectly boiled egg encased in savoury sausage meat, fried until golden and served open face. Drizzled with a sweet honey and grainy mustard sauce.) OR Drunken mussels (We take mussels to a whole new level! 1 ½ pound of fresh mussels steamed in grapefruit radler and fresh green onion. Served with grilled artisan potato bread.)
Entrée
Centennial beer battered fish and chips (We've paired two legends; Irish lager and a fresh fillet, we've lightly battered it and we're serving it up with thick cut fries, our own "chi-side" slaw and serving of homemade tartar sauce) OR Pulled pork (House smoked pork shoulder smothered in our hickory BBQ sauce and topped with slaw. Served on a potato scallion bun.)
Dessert
Bread pudding (Fresh, homemade blueberry bread pudding topped with a rum caramel and crème anglais) OR Guinness cake (A big piece of moist chocolate cake topped with baileys boiled icing.)
($35 +Tax)
Come out and enjoy! For more information telephone 506-773-7004.
The post Introducing O'Donaghue's Irish Pub in A Taste of Miramichi appeared first on Miramichi Chamber of Commerce.
Find local Daily Dining Deals on MightyMiramichi.com