A Taste of Miramichi: The Goodie Shop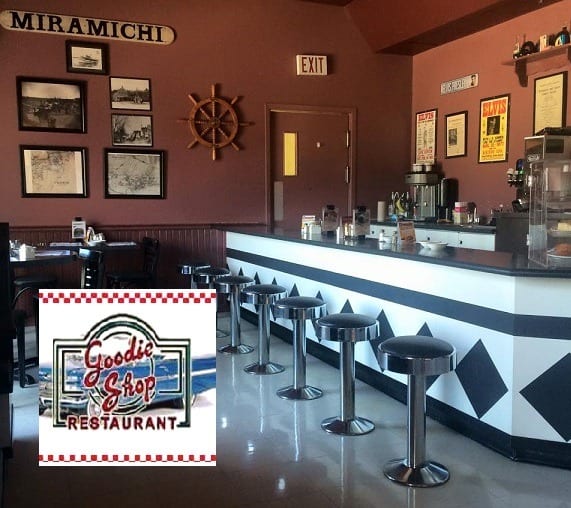 This year, Miramichi will enjoy four weeks of featured menus at 14 restaurants around the river.
A Taste of Miramichi, the Miramichi Chamber of Commerce's dining event, runs from May 15th until June 11th, 2017.
Each participating restaurant will showcase a three-course menu (with two options for appetizer, entree, and dessert) which their chefs feel represent their unique "Taste Of Miramichi".
We will be highlighting each restaurant's menu and sharing a video about them. Today we invite you to join owner Nelson Stewart and his team at The Goodie Shop, 20 Fountainhead Lane, in downtown Newcastle.
"Visit the Goodie Shop Restaurant in Miramichi for a quiet meal or group gathering. You'll love our friendly staff, great food and 50's atmosphere. Our legendary breakfast buffet is a great way to start your day, right in the heart of downtown on the square. Our restaurant is available after hours for groups of 25 or more! Our Taste of Miramichi menu has a little something for everyone!"
The Goodie Shop Menu Options:
Appetizer
Bloomin Onion & Dip OR Vegetable Spring Rolls & Dip
Entrée
Intensity Burger (8 oz. pure ground beef stuffed with cheddar cheese, topped with onion, bacon, tomato. lettuce, special sauce served on a fresh made bun with choice of potato & coleslaw) OR Stuffed Chicken Breast (chicken breast stuffed with feta cheese and spinach topped with our special cranberry ginger sauce served with choice of potato or rice, vegetable & coleslaw)
Dessert
Custard Berry Cake (A vanilla cake topped with custard and served with fresh berries) OR Chocolate Cake with Boiled Icing
($19.99 +Tax)
Come out and enjoy! For more information telephone 506-622-3078.
The post Introducing The Goodie Shop in A Taste of Miramichi appeared first on Miramichi Chamber of Commerce.