CANADA 150 CELEBRATIONS in Miramichi
City of Miramichi JULY 1st
7-11 am: Pancake Breakfast at Newcastle Lions Club – Pancakes, sausage, tea/coffee or milk. $5 per person, $15/family
8 am – 12:30: Giant Yard Sale at St. Mary's Parish, 360 Newcastle Blvd
11 am – Canada 150 Birthday Bash with the largest cake ever! Sponsored by Atlantic Superstore
Flag Raising ceremony in front of Newcastle Library
12– 4 pm – Live Entertainment and Children's Activities at Queen Elizabeth Park sponsored by Rock 'n Roll Festival
Historic Water Street
12 pm: Opening Ceremonies
12:15 – 4 pm: Carnival Theme with music, entertainer, vendors, circus performers, games, petting zoo and more.
1 pm –Canada Day Parade
Theme – Land of Many Cultures. The parade starts at the Miramichi Medical Arts Building, along Chipman St., left onto Newcastle Blvd., right onto Pleasant St., ending at the Miramichi Mall. Organized by Fire & Knights Association.
3 pm – Canada's Forgotten Father an excerpt from the production at Queen Elizabeth Park.
7 pm: Canada Day Folk Concert, Vogue Theatre, Chatham. Featuring special guests Ian Craig and Kennedy Coughlan with local performers James Morrison, Jimmy Lawlor, Bill Hachey, the Daigle sisters (dancers), Kiona Paul-Dedam, Barbara Somers, Mary and Susan Butler. Advance tickets are $15. Tickets on sale at Kingston Car Wash, Creative Grounds and Brookdale Flower Shop or $20 at the door. Hosted by the Miramichi Folksong Festival and sponsored by the Vogue Group.
Waterford Green Cultural Concert in the Park
5 pm – Smudging Ceremony
5:30 pm – Gerry Roberts (Irish)
6:30 pm – Revolution (Acadian)
7:30 pm – Gary Sappier Blues Band (Indigenous)
8:30 pm – Florent Vollant (from folk music duo Kashtin, one of the most important musical groups in First Nations History)
10:30 pm – FIREWORKS!
Rock 'n Roll Festival Celebrates Canada 150!
THURSDAY JUNE 29th
7 pm – Opening Ceremonies & Street Dance at Waterfront Parking Lot, Newcastle.
10 pm – Celebration of Lights on the River
10:30 pm – Rock N Roll Festival FIREWORKS!
FRIDAY JUNE 30th
12 – 4 pm – Live Entertainment and Children's Activities at Queen Elizabeth Park
9:30 pm – 1:30 am – Adult Dance featuring "Midnight Special" Gates open at 8:30 pm. Admission: $15 in advance and $20 at the door. (Ages 19+)
SATURDAY JULY 1st
9 am: Sidewalk Sale around the Square
9 am –4 pm: Show Off Your Baby – Take a walk around the Town Square as the owners of these antique beauties show off their babies. Security will be on site.
2:30 – 5 pm – Entertainment in the Tent
6 pm: Cruise Around The River – Take a step back in time and watch the parade of nostalgic antiques cruise around the river. The parade will make its way down the North side of the beautiful Miramichi River, across the Centennial Bridge and up the South side of the River. Parade starts and ends at the Goodie Shop Restaurant.
9:30 pm – 1:30 am: Adult Dance featuring Big Bad Party Band with special guest CCMA Award Winner Jason Barry. Gates open at 8:30 pm. 19 years of age and over.
SUNDAY JULY 2nd
10 – 11:30 am: Rock of Ages – Church Service
1 – 5 pm: Golden Oldie Car Show – A spectacular display of classic cars. Location: Waterfront Parking Lot, Newcastle. "The Very Best" Car Show in Atlantic Canada!
1 – 4 pm: Kids Fun Day, Waterfront Parking Lot Newcastle.
1 – 3 pm – Pit Stop Challenge
1:30 – 4:30 pm: Rock N Rumble featuring NWE Wresting. Admission: $10
1:00 pm: Music in Tent by DJ Planet Z
4:00 pm: Camp Sheldrake Duck Race
5:00 pm: Closing Ceremonies
6:00 pm: Let's Burn Rubber! – That's Right the tire fryer is back.
Village of Blackville Canada 150 Celebrations
FRIDAY, JUNE 30th
7-9 PM: Laser Tag at the Municipal Park. In case of rain this event will be held in the Blackville school gym.
8-10 PM – FIREWORKS and Entertainment in the Park Featuring Paula Jardine & The Dusty Angels!
BBQ will be hosted by the Blackville Fire Department. Cotton candy & popcorn will also be available
Fireworks will begin at dusk.
SATURDAY, JULY 1st
7 – 11 am: Community Breakfast will be held at St. Raphael's Hall. Bacon, eggs, toast, hash browns, tea, coffee, and juice will be served. Cost is $3.00 children / $6.00 adults.
12 – 2 pm: Strawberry Social will be held at St. Raphael's Hall. Strawberry Shortcake and tea will be served at a cost of $5.00 per person.
2:30 pm: Canada Day Parade (line up will be at 1:30 pm in the Hooked 'n Cooked parking lot).
Immediately following the parade everyone is asked to join us at the Municipal Park. There will be three jumping castles, face painting, bbq, cotton candy, popcorn, and free birthday cake! We encourage everybody to take part in celebrating Canada's 150th by entering a float.
3:30 pm – Perley the Magician
4:15 – 5:00 – Music by Amy Jardine
5:00 – 6:00 – Music by Jake Stewart & Friends
The first 200 children to arrive at the park will receive a FREE Canada 150 frisbee (sponsored by Blackville Foodland)
The Blackville Canada 150 hoodies & ball caps will also be available for purchase at the park on Friday & Saturday. Hoodies are $30 and caps are $15 (taxes included).
Village of Doaktown – Canada 150 Celebrations
Thursday, June 29th
6 pm: Official Opening – Canada 150 Celebrations Meet & Greet. Doaktown Legion. Entertainment, Refreshments, Special Legion Presentations, Tours of the Memorial Room
Friday, June 30th
10 am – 4:30 pm: Children's Activities – Puppet show, games, Perley the Magician (2pm) and much more at the Doaktown Community Library
11:30 am: Central NB Self-Help BBQ with hot dogs, pop and cake ($3.00)
4:30 – 6 pm: Cold Plate Supper at St. Thomas United Church. Take -outs available. Adults: $10 / Children 10 and Under: $5 Handicraft Sale and Quilt Display
7 pm: Annual Country Jamboree Doaktown Elementary School. Adults: $5 / Children 12 and Under FREE
8 pm Chase The Ace at Atlantic Salmon Museum
Saturday, July 1st
Doaktown Curling Club
7 – 11 am: Breakfast Adults: $10 / Children 12 and Under: $5
9 am – 1 pm: Vendors Market. Admission by donation (in support of Boiestown Doaktown Minor Hockey Association)
11 am: 3rd Annual Canoe Run 4 Vets (into the evening) Doaktown Legion
Price: $30 for full day including gift package ($20 value); $15 for dinner & dance only. Steak or ¼ Chicken Dinner. Draw for a 4 -Wheeler. Musical Entertainment
1 – 4 pm: Atlantic Salmon Museum Open House – Highlighting the new "John Keith-King Collection"
5 pm to Midnight: Class Reunion: 1965–1969 Atlantic Salmon Museum
Sunday July 2nd
Doaktown Community Park
1:30 pm: Ecumenical Church Service – Performance by the Community Choir
2:30 pm: Flag raising – Legion Veterans. Complimentary Canada 150th Anniversary Cake
12:00 pm (until sold out) –St Joachim Parish Annual Chicken Barbeque (Boiestown) Annual BBQ (over 60 years running) 1/2 chicken, salads, roll, cookies – Price: Adults $12.00 (1/4 chicken for children $6.00) salad, chips, cookies. To order take-out call 369-2309
1 – 5 pm: Open House Atlantic Salmon Museum – Highlighting the new "John Keith-King Collection"
9 pm: Annual Night Lite Parade and FIREWORKS! 50 / 50 tickets will be sold before the parade.
Monday, July 3rd
10 am – 4 pm: Family Day at the Doak Site (Donations welcome)
BBQ, Pie eating contest, Displays, Dunk Tank, Bouncy Castle, Games for all ages, Demonstrations (butter making, dying wool, cake decorating), Pony Rides and Petting Zoo. Draw for the 50/50 WINNER! Parade Awards and Home/Business Decorating Prizes
9 am – 5 pm: Open House at Atlantic Salmon Museum – Highlighting the new "John Keith-King Collection"
For event and decorating information, call Linda Gaston: 506-365-7054 (h) or 506 476 4325 (c) . For parade information and registration, call Doreen Parker: 506-365-0392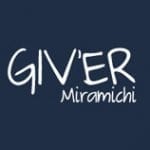 Giv'er Miramichi is about "What's up, what's new, what's happening". We are focused on building people up, supporting one another and celebrating our successes.