Family Friendly Summer Activities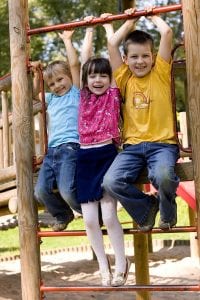 Does summer vacation have you wondering how to keep your kids busy? We've put together some ideas for family friendly activities.
Whether you're in Miramichi for a day, a week, or you just live down the street – you'll find something to keep your kids active, learning, and entertained while they are off from school.
Lets Play! – (Playgrounds & Parks)
Ritchie Wharf – Overlooking the beautiful Miramichi River, with a large playground featuring a Splash Pad to cool off on those hot summer days. Nearby there's an ice cream parlour, gift shops, restaurants, and boat tours from the marina. Free live entertainment happens every evening and Sunday afternoons. Public washrooms with changing facilities on-site. (Located just off Ledden Street on Norton's Lane in Newcastle. Telephone: 506-623- 2300.)
French Fort Cove – A large playground, canteen with public washrooms, paddle boat and canoe rentals, hiking and biking trails and a boardwalk where you're sure to see some ducks . Zip lines are new this year! (Located at 1111 King George Hwy, Newcastle. Telephone: 506-623- 2300)
Waterford Green – A great spot to relax and watch the boats on the Miramichi River while the kids slide and play. Lots of green space for running around. There are picnic tables and benches as well as restaurants nearby. (Located on Loggie Drive, Chatham.)
For a complete list of playgrounds in the City of Miramichi, visit www.miramichi.org/en/playgrounds
Curious Minds – (Museums & Farms)
Learn about fish, animals, and local history!
Miramichi History Museum – Children will enjoy seeing the birds display, tarantula, crocodile, and famous eight-legged cat in the Natural History section. The museum operates mid-June to early September, and is open Monday to Saturday from 10am to 5:30pm. Admission is $3 for anyone over the age of 12. (Located at 182 Wellington Street in Chatham. Tel: 506-778-4050 or 506-778- 9106.)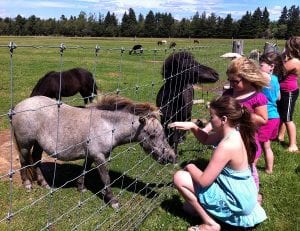 Way-Joy Farm Miniatures – just as it's name implies, everything on this farm is miniature. So beware of cuteness overload! You'll be greeted at the fence by Miniature Horses, Donkeys, and Pygmy Goats, looking for a pat on the head. Also on the farm are Hair Sheep, Llamas, Alpacas, Piglets, and Miniature Zebu Cattle. Owner Wayne Thompson has been raising and breeding miniatures since 1995 on this old homestead, located at 161 Murdock Rd, Napan. Visit their website at www.way-joyfarm.com (Tel: 506-773- 9924) All of the animals on the farm are for sale, and can be viewed from May to the end of October.
Central New Brunswick Woodsmen's Museum – "Ride the Rails" on a replica of the "Whooper" passenger train, and check out the restored TBM Avenger Air Tanker (#14). Open June to October, this 15-acre exhibition site has many places to explore while you learn about the lumbering days of old. Highlights of the museum include an original trapper's cabin, cookhouse-bunkhouse- dingle, wheelwright shop, blacksmith shop, sawmill, fire tower, and more! (Located at 6342 Route 8 Highway, Boiestown) Visit their website at www.woodmensmuseum.com
Atlantic Salmon Museum – Visit the aquarium where you'll see salmon parr, salmon fry, frogs, river and speckled trout, a salamander, and turtles. Open June through September 9am to 5pm Monday to Saturday and on Sunday noon to 5pm. Admission is $5 for adults, $3 for students, or $12 per family. Preschoolers get in free. The museum also hosts a popular summer camp, where children can learn to cast, tie flies and more! Offered to children aged 6-12 from July to August. (Located at 263 Main Street, Doaktown. Tel: 506-365- 7787 or email ) Visit their website at www.atlanticsalmonmuseum.com
MacDonald Farm – Take a horse drawn wagon to the impressive historic homestead and tour the fine stone house built in the Georgian tradition. Feed and pet the animals, gather eggs and help in the garden, or walk along the shore. Open late June to early September Tuesday to Sunday from 10am to 4pm. (Located at 600 Route 11, Lower Newcastle. Tel: 506-778- 6085. Email ) Visit their website at www.macdonaldfarm.ca
Lets Go Swimming – (Beaches and Pools)
Escuminac Beach and Family Park – Enjoy clean salt water and miles of sandy beach for a small entry fee. Many amenities are on site including a picnic area, children's playground, canteen, restrooms, hot showers, beach volleyball, and horseshoe pits. Open from mid-May to mid-October. (Located about 40 minutes from Miramichi at 301 Escuminac Point Rd, Escuminac. [Telephone 1-877- 228-4599/506- 228-4532 year-round] Visit their website at www.escuminacbeach.com)
Middle Island Irish Historical Park – Middle Island has a small sandy beach perfect for wading or swimming and is located approximately 2km east of the Historic Chatham Business District, accessible via a short causeway. There is a restaurant on site, and a picturesque picnic area. Open May 9th until October 7th daily, from 8am to 4:30pm. Summer hours are 8am to dusk. (Located at 2345 Water Street. Tel: 506-773- 7505.) Visit their website at www.middleislandmiramichi.com
Gordon's Wharf – A long time popular swimming spot for locals. It is unsupervised but has changing facilities, and a canteen open for the season from June 13 to September 5, daily 11am to 7pm. Recreational boaters have access to the slip, docks, and wharf during daylight hours. Public washrooms on site. (Located off Gordon's Wharf Road, Lower Newcastle. Tel: 506-627- 9768.)
Outdoor Public Swimming Facilities –
The Chatham Outdoor Pool is located at 57 Henderson Street in Chatham.
The Kinsmen Outdoor Pool is located at 298 Beaumont Avenue in Newcastle.
Change Rooms available. Both pools open June to August.
(Contact 623-2300 for more information and times or visit the website at www.miramichi.org/en/pools/ )
Indoor Public Swimming Facilities –
The Golden Hawk Public Indoor Pool is located at 8 Pollard Boulevard in Chatham
The Miramichi Valley High School Indoor Pool is located at 345 McKenna Avenue in Newcastle.
Change Rooms available. Open September to June.
(Contact 623-2300 for more information and times or visit the website at www.miramichi.org/en/pools/ )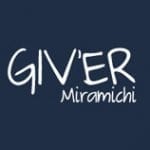 Giv'er Miramichi is about "What's up, what's new, what's happening". We are focused on building people up, supporting one another and celebrating our successes.