Book Review: "Down Inside: Thirty Years in Canada's Prison Service" by Robert Clark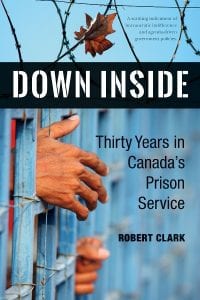 by James M. Fisher, The Miramichi Reader
Down Inside is the memoir of Robert Clark whose entire working career was spent with the Canadian Correction Service (CSC). When he retired in 2009, he was serving as a deputy warden and a few years later sat down to write about his experiences in the hope of inciting change in the current system.
"I decided I had a duty to alert the world to what was going on inside the prison system."
"Stephen Harper's Conservative government tough-on-crime agenda helped to prompt my retirement in 2009. When I saw the changes being advanced to make our prison environment more closely resemble the US model – changes I considered unconscionable – I knew I would be unable to participate. I was aghast at how readily the leadership of the CSC embraced these draconian measures, seemingly without any hint of moral conflict. I decided I had a duty to alert the world to what was going on inside the prison system." 
The result is Down Inside: Thirty Years in Canada's Prison Service (2017, Goose Lane Editions), a divulging, and at times shocking, 260+ page account of Mr Clark's experiences beginning as a young Queen's University student volunteering at Millhaven Institute to his final post as an experienced deputy warden at the Regional Treatment Center (RTC) inside the Kingston Penitentiary. Mr Clark's approach to the inmates throughout his career was to meet "civility with civility" and not to treat them as second-class citizens with little or no rights, as was the predominate mindset of the CSC. He was consistently successful in gaining the inmate's trust and defusing many potentially violent situations using this approach.
Down Inside is well-written and was engrossing to read. It was a real page-turner at times as I followed Mr Clark from institution to institution (I grew up in Kingston) and position to position within the system. He reveals his failings, as well as his successes and one quickly gets the impression that Mr Clark is the sort of person one would like to work with or under for that matter. If you are at all interested in the Canadian correctional system or what life is like inside the razor-topped fences and walls of Canada's correctional institutions, then Down Inside is well worth a look. I am adding it to the 2017 longlist for the "Very Best!" Book Awards for Non-Fiction.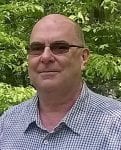 James M. Fisher lives in Miramichi. James is an ardent reader whose aim is to highlight New Brunswick authors and publishers, as well as cover subjects of interest to New Brunswickers in particular and Maritimers in general. For more visit his website or like his page on Facebook.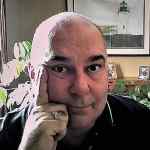 James M. Fisher is a Miramichi resident who enjoys reading and reviewing books both local and international. You can read more book reviews and author interviews on his site, www.miramichireader.ca