Miramichi Fishing Report for Thursday, July 27, 2017
MIRAMICHI – With the cold-water pool closures now lifted, and very few anglers on the rivers, I will do a summary report this week. Fortunately, temperatures both during the day and night have been cooler. However, the rivers remain low, and we need a good day's rain to really improve things.
On the positive side, fish are moving and there are some fresh fish coming in since Monday. One angler hooked three salmon Tuesday and another Wednesday morning. Some had sea lice. He was using a small no.12 hook.
Having said that, there was still an odd fish being caught here and there last week and on the weekend, but they were few and far between. Some fish are being seen. Syd Matchett said one day this week he heard a knock at his shop door, and when he opened it there were two grilse on his doorstep asking if he could spare a glass of cold water as they were mighty thirsty.
A report from the Stoney Brook Crown Reserve weekend crew stated they saw no fish. The only splash they heard and saw was a family of otters in the Whitmore Pool.
Some private camps on the upper stretches of the various rivers were having reasonable success with slightly cooler waters with smaller sized flies. Other than that, it is a pray for rain situation.
However, DFO decided to lift the closure ban on all the cold-water pools on Wednesday, so as of today, Thursday, July 27 the rivers are back to normal fishing
One helpful hint in low water conditions is to go to your favourite pools and study them. If there are any fish found, note where they are. Chances are they will be in exactly the same spots in normal conditions. You may also see some rocks you may not have known were there and find some more good spots where fish will lie. A visit to the river is never boring.
---
This is just to advise you that as per the Miramichi Watershed Warm Water Protocol, the two conditions have been met to reopen 26 cold water salmon pools to salmon angling: The weather forecast predicts daytime air temperature to be moderate during the next 7 days with cool nightly temperatures AND the fish is moving out of the cold water refuges.
The following three cold water salmon pools will remain closed to fishing until December 31, 2017:
• Confluence of Sutherland Brook and Northwest Miramichi River, including the waters of Sutherland Brook upstream to the Highway 420;
• Waters of the Southwest Miramichi River in Quarryville, 300 m upstream and 300 m downstream of the Quarryville Bridge, including Indian Town Brook from its confluence with the Southwest Miramichi River, upstream to Highway 108 bridge;
• Confluence of Wilson Brook and Southwest Miramichi River, including the waters of Wilson Brook 100 m upstream of its mouth, an area locally known as the Bear Den;
Ceci est pour vous aviser que selon le Protocole d'eau chaude du bassin versant de la rivière Miramichi, les deux conditions pour la réouverture des 26 fosses d'eaux froides à la pêche au saumon ont été rencontrées : La météo prévoit une température diurne modérée de l'air et des nuits fraiches durant les sept prochains jours ET les poissons sont en train de sortir de leur refuges d'eaux froides.
Les fosses à saumon suivantes demeureront fermées à la pêche jusqu'au 31 décembre 2017 :
• Confluence du ruisseau Sutherland et de la rivière Northwest Miramichi et ruisseau Sutherland en amont de sa confluence avec la rivière Northwest Miramichi jusqu'au pont de la Route 420;
• Les eaux de la rivière Miramichi Sud-Ouest à Quarryville, 300 m en amont et 300 m en aval du pont de Quarryville, incluant le ruisseau Indian Town de sa confluence avec la rivière Miramichi Sud-Ouest, en amont vers le pont de l'Autoroute 108;
• Confluence du ruisseau Wilson et de la rivière Miramichi Sud-Ouest, incluant les eaux du ruisseau Wilson jusqu'à 100 mètres en amont de son embouchure, un secteur connu localement comme Bear Den;
Cécile Lavoie
A/Senior Advisor, Resource Management (Groundfish)
Fisheries and Oceans Canada / Government of Canada
/ Tel: 506-851-2033 / Fax: 506-851-7732
Conseillère principale p.i., Gestion de la ressource (poisson de fond)
Pêches et Océans Canada / Gouvernement du Canada
/ Tél : 506-851-2033 / Fax : 506-851-7732
---
Don't forget to show your support for our sponsors, because without them, this column would not be possible.  

ANY FINANCIAL CONTRIBUTIONS TOWARD HELPING WITH THIS COLUMN ARE GREATLY APPRECIATED.
Click here to donate now. Or to donate by mail, send to:
Doug Underhill
438 McKinnon Road
Miramichi, NB, Canada, E1V 6G2
A SPECIAL THANKS to all who made contributions last season.
If you would like to sponsor this column, give us a call at (506) 352-7668 or email .
---
Thought for the Week: "I've gone fishing thousands of times in my life, and I have never once felt unlucky or poorly paid for those hours on the water." – William Tapply from A Fly-Fishing Life
---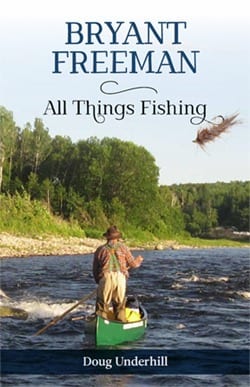 Bryant Freeman: ALL THINGS FISHING by Doug Underhill
NOW AVAILABLE in Stores
or from Doug Underhill
438 McKinnon Road
Miramichi, NB
E1V 6G2
or Bryant Freeman 1-506-386-6269
Cover price $19.95
Shipping to Canada $25.00 (Incl shipping & handling)
To US $30.00 (incl shipping & handling)
---
The Coalition for Better Salmon Management (CBSM) now has a website at salmonnb.com, which has been expanded and updated. It already has a membership over 1,000 and is a major voice for salmon conservation here in New Brunswick.
---
Email:
If you don't let kids keep a salmon (grisle) to take back to their friends/grandparents and eat it, then they won't be fishing.    Gary Jones
Atlantic Salmon Federation News
Thurs., July 20, 2017
ASF RIVERNOTES – a great mid-season roundup with special focus NL
~~~~~~~~~~~~~~~~~~~~~~~~~~~~~~~~~~~~~~~~~~~~~~~~
This may well be the longest ASF RIVERNOTES of 2017, and it has the latest on rivers from Maine to NL. In NL there is the question of what DFO will do about the significantly lower returns this year, while in Maine it is the best year since 2011.
http://asf.ca/asf-rivernotes-july-20-2017.html
Decline in Returns in NL a Concern
~~~~~~~~~~~~~~~~~~~~~~~~~~~~~~~~~~~~~~~~~~~~~~~~
ASF's Neville Crabbe gives a perspective on the lower returns of Atlantic salmon in NL.
http://asf.ca/declining-nl-salmon-stocks-cause-for-concern.html
Keith Cormier Urges Caution When it Comes to Atlantic salmon
~~~~~~~~~~~~~~~~~~~~~~~~~~~~~~~~~~~~~~~~~~~~~~~~
A well-known angler and VP of SPAWN raises concerns about DFO's actions and the need for better science in assessment of the salmon runs.
http://asf.ca/keith-cormier-urging-caution-when-it-comes-to-salmon.html
NL Atlantic Salmon Angler Confronted by Black Bear
~~~~~~~~~~~~~~~~~~~~~~~~~~~~~~~~~~~~~~~~~~~~~~~~
A disconcerting yet fascinating story that recently took place on a Newfoundland river.
http://asf.ca/newfoundland-salmon-angler-confronted-by-a-black-bear.html
Northern Peninsula Not Immune to Decline in Salmon Numbers
~~~~~~~~~~~~~~~~~~~~~~~~~~~~~~~~~~~~~~~~~~~~~~~~
The numbers are down in most rivers, and an interview with DFO's Dr. Geoff Veinott gives another perspective on it.
http://asf.ca/northern-peninsula-not-immune-to-declines-in-salmon.html
Maine's River Herring Make an Amazing Comeback
~~~~~~~~~~~~~~~~~~~~~~~~~~~~~~~~~~~~~~~~~~~~~~~~
A major article details the resurgence of a variety of species returning to Maine rivers where dams have been removed. An amazing story.
http://asf.ca/maine-river-herring-making-dramatic-comeback.html
PEI Chapter of Council of Canadians Uneasy with GM Salmon Production
~~~~~~~~~~~~~~~~~~~~~~~~~~~~~~~~~~~~~~~~~~~~~~~~
Leo Broderick of the organization provides some of the questions they are raising regarding the growing of genetically modified farmed Atlantic salmon in PEI.
http://asf.ca/council-of-canadians-lists-gm-salmon-concerns.html
Concern about Invasive Pink Salmon in Scottish Rivers
~~~~~~~~~~~~~~~~~~~~~~~~~~~~~~~~~~~~~~~~~~~~~~~~
Increasing numbers of Pink Salmon are showing up in Scottish rivers, and this invasive species is causing great concern regarding the native Atlantic salmon.
http://asf.ca/concern-about-invasive-pink-salmon-in-scottish-rivers.html
~~~~~~~~~~~~~~~~~~~~~~~~~~~~~~~~~~~~~~~~~~~~~~~~
To keep track of breaking news on wild Atlantic salmon, use the Atlantic Salmon Federation's presence on Facebook. Log in, search for Atlantic Salmon Federation, and click "like".
From MSA:
Hi All
DFO has reopened the cold water pools as of tomorrow, June 27th. The night time water temperature has been below 20°C for the past three nights and they have received reports that salmon are starting to move out of the pools. The forecast for the next seven days shows average air temperatures of around 25°C. Their notice can be read at http://inter-w02.dfo-mpo.gc.ca/Gulf/FAM/Recreational-Fisheries/Reopening-salmon-pools-2017
Saving wild Atlantic Salmon – CAST Efforts are Making a Difference
Our President, Mark Hambrook, issued a Press Release Monday July 24th, 2017 regarding the low salmon returns and how the CAST program will make a difference. Read it from our website.
Barrier Reports
As of July 23rd both the Northwest and Dungarvon Barriers showed lower numbers of grilse but higher numbers of salmon than the same week last year.
Northwest Barrier – Total to Date – July 23rd, 2017
Grilse
(to 63 cm)
Small Salmon
(64-84 cm)
Large Salmon
(>84 cm)
Total Small
& Large
All Atlantic
Salmon
Brook
Trout
2017 to Date
67
55
32
87
154
636
Previous Year to Date
140
43
18
61
201
306
Dungarvon Barrier – Total to Date – July 23rd, 2017
Grilse
(to 63 cm)
Small Salmon
(64-84 cm)
Large Salmon
(>84 cm)
Total Small
& Large
All Atlantic
Salmon
Brook
Trout
2017 to Date
75
53
60
113
188
19
Previous Year to Date
99
22
57
79
178
35
DFO Trap and Barrier Counts
DFO does post trap and barrier numbers the middle and end of each month – these can be found at https://inter-j01.dfo-mpo.gc.ca/asir/report/count?countPeriod=0715&speciesType=1 or click the DFO Salmon Counts Quick Link on our home page.
Enjoy the nice weather we are having!
Yours in Conservation
Nola
Consultation on marine recreational fishing licences for the Gulf Region
On May 19, 2017, the Department announced it will be consulting Canadians in Eastern Canada about the possibility of launching a marine recreational fishing licence system in 2018. Your comments will be used to develop options going forward.
For more details, please consult Consultation on marine recreational fishing licences for eastern Canada.
Public meetings
The general public is invited to participate in the meetings.
In the Gulf Region, public consultation meetings will be held at the following locations:
Prince Edward Island
July 19 – 6:30 p.m. to 8:30 p.m. – Royal Canadian Legion, 94 Main Drive, Miscouche
July 20 – 6:30 p.m. to 8:30 p.m. – Rodd Hotel Royalty, 14 Capital Drive, Charlottetown
Nova Scotia
July 24 – 6:30 p.m. to 8:30 p.m. – Inverness County Centre for the Arts, 16080, Highway 19, Inverness
July 25 – 6:30 p.m. to 8:30 p.m. – Holiday Inn, 86 Lawrence Boulevard, Stellarton
New Brunswick
July 27 – 6:30 p.m. to 8:30 p.m. – Atlantic Host Hotel, 1450 Vanier Boulevard, Bathurst
August 17 – 6:30 p.m. to 8:30 p.m. – Cocagne Marina, 130 Marina Road, Cocagne
By email
You can send your comments by email before August 17 at Recfish/
By mail
You can send your comments by mail before August 17 to :
Fisheries Resource Management – Fisheries and Oceans Canada
Room 13S038
200 Kent Street
Ottawa, Ontario
K1A 0E6
---
Anyone wishing to report suspicious fishing activity anonymously is asked to contact the nearest Fisheries and Oceans Canada office or to call Crime Stoppers at 1-800-222-8477
Until next week
TIGHT LINES
DOUG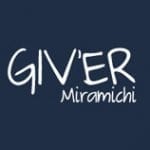 Giv'er Miramichi is about "What's up, what's new, what's happening". We are focused on building people up, supporting one another and celebrating our successes.