Metepenagiag Artifact Repatriation – Canada 150th Anniversary Celebration

Metepenagiag Heritage Park Inc. (MHPI), in collaboration with Metepenagiag Mi'kmaq Nation, is organizing a major Canada 150th anniversary celebration on Saturday, August 26, 2017, as part of the repatriation of artifacts to the community.
Metepenagiag Heritage Park Inc. is working with the Province of New Brunswick's Archaeological Services Branch to repatriate a large portion of the 60 000 artifacts currently conserved by the Province. These artifacts are related to Augustine Mound and Oxbow National Historic Sites and provide a direct link to the community's history, its ancestors, and its proud indigenous heritage.
"As part of the Canada 150th anniversary celebrations, this initiative will help Canada celebrate the importance of indigenous archeological resources and encourage the community to build connections with its rich past," stated Chief Bill Ward. The children of the community will be directly involved in "bringing back" the artifacts to the community during the August 26 celebration which will begin at 11:00 a.m. with the raising of the Canadian flag, followed by an official repatriation ceremony, an authentic Mi'kmaq feast, music and dancing in the afternoon.
"In 2003, the Mi'kmaq of Metepenagiag were inspired by the opening of a new Visitor Interpretation Centre at Grand-Pré National Historic Site and four years later, they celebrated the opening of Metepenagiag Heritage Park," stated Claude DeGrâce, Chair of the Board of Directors. "After last week's Grand-Pré 2017 celebration of the friendship between the Mi'kmaq and the Acadians, the artifact repatriation event provides a great opportunity for everyone to learn about, and connect with, the rich cultural heritage of the Mi'kmaq."
MHPI wishes to thank the Government of Canada for its financial contribution to this event. Metepenagiag Heritage Park protects and presents the rich Mi'kmaq heritage of Augustine Mound and Oxbow National Historic Sites. For more information, please visit www.metpark.ca or call 506-836-6118.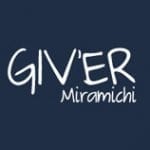 Giv'er Miramichi is about "What's up, what's new, what's happening". We are focused on building people up, supporting one another and celebrating our successes.