Miramichi Author David Adams Richards Appointed to Senate
The Prime Minister's Office announced today that renowned Miramichi author, David Adams Richards has been appointed to the Senate. He will represent New Brunswick in the Red Chamber.
"I am extremely — extremely — proud to have asked Mr. Richards to serve in the Senate of Canada. He is someone who is well known to us all as a novelist, an essayist, a poet, who has done an extraordinary job of telling the stories of the Miramichi River valley, of New Brunswick, and indeed of Canada, to Canadians and the world," Prime Minister Trudeau said. "His dedication to the arts, his love of place and country, will be an extraordinary asset to the independent thinkers in the Senate."
About David Adams Richards from Penguin Random House
Born in 1950 in Newcastle, David Adams Richards was the third of William and Margaret Richards' six children. He found his calling at the age of 14, after reading Oliver Twist, and embarked on a life of extraordinary purpose, one which he says didn't help his finances: "Sometimes . . . I thought it would be better if I were a plumber, but I wouldn't be very good."
At the age of 20 and after finishing his first novel, The Keeping of Gusties, Richards went in search of a community of writers. His quest ended when he met a group of academics at the University of New Brunswick. Richards would hitchhike from his home in Newcastle to Fredericton every Tuesday night to meet with them and read from his work. The literary evenings were held on campus at McCourt Hall, in an outbuilding formally used to store ice. The group quickly became known as the Ice House Gang. There he received encouragement from established writers, including the late Alden Nowlan, whom he names as important influences along with Faulkner, Pushkin, Dostoevsky and Emily Brontë. It was during his time with these writers that Richards wrote two-thirds of his second novel, The Coming of Winter, which was published by Oberon Press in 1974.
In 1971, Richards married Peggy McIntyre. They spent the first years of their marriage travelling throughout Canada, Europe and Australia. It was on these long sojourns away from the Mirimachi that Richards found he could write about the home he loved, regardless of where he lived. As he continued to write, Richards took postings as writer-in-residence at universities in New Brunswick, Ontario, Alberta and at Hollins University in Roanoke, Virginia. In 1997, they moved to Toronto with their sons John Thomas and Anton.
The Miramichi region has continued as the heart of Richards' fiction throughout his career. As he explained in an interview with January Magazine, his connection to the area and to the rural lives of its inhabitants is central to his fiction, yet does not reflect a limited scope: "It's very important, because the characters come from the soil. They're like the trees, in a certain respect. They cling to that river and that soil, but as Jack Hodgins once said about my writing—which was one of the kindest things any writer has said about my writing—he said: 'David, you aren't writing about the Miramichi Valley, you're writing about Campbell River where I come from. Because every character you talk about is a character I've met here in Campbell River.' And that's basically what I'm doing. Of course my people are Miramichi. Of course they come from the fabric and the soil of the Miramichi but if that was the only thing that was interesting about them, I wouldn't bother writing about them."
The relocation to Toronto was not without its difficulties, though. As Richards documented in the memoir Lines on the Water, he loves fly-fishing on the Miramichi River. Yet once he was no longer a resident, he was unable to get a fishing licence for the region. Thankfully, said Richards, the local government proclaimed him an "honorary Miramichier"—"So I can go fishing. It was very nice of them and very touching." He has also written a non-fiction book on the place of hockey in the Canadian soul, called Hockey Dreams.
Richards has received numerous awards and prizes throughout his career. Most notably, he is one of few writers in the history of the Governor General's Literary Awards to win in both the fiction (Nights Below Station Street) and non-fiction (Lines on the Water) categories. In addition to these two wins, he was nominated for Road to the Stilt House (in 1985), For Those Who Hunt the Wounded Down (in 1993) and Mercy Among the Children (in 2000). Considered by many to be Richards' most accomplished novel, Mercy was co-winner of the Giller Award in 2000, and was shortlisted for the Trillium Award and the Thomas Raddell Award. It also won the Canadian Booksellers Association author of the year and fiction book of the year awards. Over the years, Richards has also won countless regional awards for his novels and was awarded the prestigious Canada-Australia Literary Prize in 1992. More recently, The Lost Highway was shortlisted for the Governor General's Literary Award and longlisted for the Scotiabank Giller Prize and The Friends of Meagre Fortune won the Commonwealth Writers' Prize for Best Book and was longlisted for the Scotiabank Giller Prize.
Despite all of these successes, it was years before Richards made money at writing. He laughs at the sales of his early work: "For a long while if I sold 200 books, I'd be saying: Oh, great! And, you know, a $50 advance! That's great. I only worked three years, I don't know if I can spend $50."
Also a screenwriter, Richards has adapted a number of his novels for the small screen. In 1990, he adapted his novel Nights Below Station Street, and in 1994 he penned the teleplay "Small Gifts," for which he won his first Gemini. He won his second for his screen adaptation of For Those Who Hunt the Wounded Down, and later co-wrote the screenplay for The Bay of Love and Sorrows, released as a feature film in 2002.
In addition to his novels and non-fiction books, Richards' short stories and articles have been published in literary magazines and anthologies. His literary papers were acquired in 1994 by the University of New Brunswick.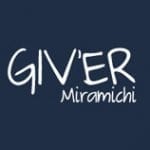 Giv'er Miramichi is about "What's up, what's new, what's happening". We are focused on building people up, supporting one another and celebrating our successes.