Miramichi Fishing Report for Thursday, September 7, 2017
MIRAMICHI – As we move into September, we are looking for a good Fall run. The only stumbling block is the lack of rain. We did get some this week, with more in the forecast. If we get the amounts predicted, it should spur the fishing, as water temperatures are good.
COMMENTARY:
The Coalition for Better Atlantic Salmon Management has specifically and formally asked DFO "several times" for an answer to the number of striped bass they are aiming for in the Miramichi River system. So far they have ignored this request. They must have a plan in place, and if so, why the secrecy? If there is no plan, does this suggest incompetence? Anglers and voters deserve an answer from these paid civil servants. Check the Coalition's website below.
W. W. Doak and Sons in Doaktown said last Thursday to Saturday anglers were picking up a few more fish with cooler temperatures and a little splash of rain. Most were salmon in the Upper Blackville area. That area received about a six-inch raise in water, but a lot more is still needed. However, there were very few anglers out as they were waiting for a good rain. One camp above Doaktown said they were close to catching the same number of fish as last year.
Flies of choice were small dark wets such as Glitter Bears, Green Machines with Krystal Flash and Undertakers on nos. 8 & 10 hooks, along with Bombers and Whiskers.
Andrew Anthony of Ledges Inn in Doaktown and Mountain Channel in the Rapids area said Mountain Channel had done well, landing about a dozen fish the past week. Some were fresh with sea-lice and some salmon. However, in the Doaktown area, the water was still low and much more rain was needed. They did pick up a salmon Tuesday. Water temperatures were good.
Flies of choice were Bombers and small White-tailed Green Machines, Conrads and Bugs.
Herb Barry Sr. of Herb's Fly Shop on the Station Road in Blackville said anglers were catching a few old fish in some of the pools that had water, but the rest of the river was low. Recent rain helped a bit, but we are still in dire need of more, and he was hoping the end of this week would help.
Flies of choice were Bombers and Whiskers.
Curtis Miramichi River Outfitting in Blackville said they had a small raise in water, but it was far from enough. They were reporting some fish, mostly grilse with an odd salmon, and even an odd bright fish.
Flies of choice were Red-butt Green Machines on no.8 hooks and a variety of Bombers.
Jim Laws of Miramichi Hunting and Fishing in Newcastle, Miramichi reported a few fish being hooked where there was enough water to hold them. There was a small raise in water, but certainly not enough. Anglers were complaining that they have seen very few trout this season. Striped bass are gradually moving back up river, but not into the Miramichi proper as yet.
Flies of choice were Bombers with light bodies and brown bodies.
Syd Matchett of Trout Brook Fly Shop on the Northwest Miramichi said angling this week was not much better than last. There were some old fish in the local pools, but they had been fished over and some probably caught and released, so getting them to take was a task. The Northwest did get about a four-inch raise from rain early week, but we are still in need of a lot more. One crew from the Elbow Crown Reserve came out early as they didn't Catch or see a fish. Over all some of the camps were picking up an odd one, but it was tough fishing.
Flies of choice were No. 8 Shady Ladies and small Bombers. One angler even got one on a Muddler Minnow just before dark.
Debbie Norton of Upper Oxbow Outdoor Adventures on the Little Southwest Miramichi said they had caught a salmon on Tuesday, and had lost a few others on the weekend. The water had come up a bit, but a lot more is needed. The positive was the water temperatures.
Flies of choice were No. 8 Green Machines with Krystal Flash and some General Practitioners.
So hopefully we can pickup a fair amount of train over the weekend and early next week to bring some of the Fall run into the system. Then we can get out and "on the water".
---
Don't forget to show your support for our sponsors, because without them, this column would not be possible.  

ANY FINANCIAL CONTRIBUTIONS TOWARD HELPING WITH THIS COLUMN ARE GREATLY APPRECIATED.
Click here to donate now. Or to donate by mail, send to:
Doug Underhill
438 McKinnon Road
Miramichi, NB, Canada, E1V 6G2
A SPECIAL THANKS to all who made contributions last season.
If you would like to sponsor this column, give us a call at (506) 352-7668 or email .
---
Thought for the Week: "Don't tell fish stories where the people know you; but particularly, don't tell them where they know the fish." – Mark Twain
---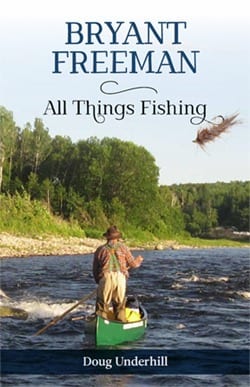 Bryant Freeman: ALL THINGS FISHING by Doug Underhill
NOW AVAILABLE in Stores
or from Doug Underhill
438 McKinnon Road
Miramichi, NB
E1V 6G2
or Bryant Freeman 1-506-386-6269
Cover price $19.95
Shipping to Canada $25.00 (Incl shipping & handling)
To US $30.00 (incl shipping & handling)
---
The Coalition for Better Salmon Management (CBSM) now has a website at salmonnb.com, which has been expanded and updated. It already has a membership over 1,000 and is a major voice for salmon conservation here in New Brunswick.
---
Email:
Atlantic Salmon Federation News
Thursday, Aug. 31, 2017
ASF RIVERNOTES looks at the state of rivers as autumn arrives
~~~~~~~~~~~~~~~~~~~~~~~~~~~~~~~~~~~~~~~~~~~~~~~~
We are beginning to get a sense of how the season is going to be remembered, with lack of rainfall being one common theme.
http://asf.ca/asf-rivernotes-aug-31-2017.html
Newfoundland Government Appeals Grieg Court Decision
~~~~~~~~~~~~~~~~~~~~~~~~~~~~~~~~~~~~~~~~~~~~~~~~
Rather than going ahead and undertaking the full environmental assessment ordered by the Court, the NL Government will appeal the decision. Read more:
http://asf.ca/newfoundland-appealing-grieg-court-decision.html
Fishing for Answers for the Saint John River
~~~~~~~~~~~~~~~~~~~~~~~~~~~~~~~~~~~~~~~~~~~~~~~~
A great feature on the state of the Saint John River including its importance as a salmon river in need of restoration.
http://asf.ca/fishing-for-answers-for-the-saint-john-river.html
Story Continues to Unfold After Salmon Cages Break Up in Washington State
~~~~~~~~~~~~~~~~~~~~~~~~~~~~~~~~~~~~~~~~~~~~~~~~
Last week's ASF WEBWORKS shared news of the pen failure of a Cooke Aquaculture salmon farm site in Washington State. Since then the story has continued to unfold in many directions.
BC First Nations push province to revoke salmon farm licences
http://asf.ca/bc-first-nations-push-province-to-revoke-salmon-farm-licenc.html
Native anglers have caught 20,000 farmed salmon
http://asf.ca/native-anglers-have-caught-20000-farmed-atlantic-salmon.html
Anglers rounding up stray Atlantic salmon
http://asf.ca/anglers-rounding-up-stray-atlantic-salmon.html
Washington State puts moratorium on new salmon farms
http://asf.ca/washington-state-puts-moratorium-on-new-fish-farms.html
Land-based Aquaculture gets a boost with break up of open net-pen salmon farm
http://asf.ca/salmon-spill-prompts-call-for-land-based-salmon-farming.html
Impact of Salmon Farm Escape Being Felt in Canada
~~~~~~~~~~~~~~~~~~~~~~~~~~~~~~~~~~~~~~~~~~~~~~~~
Besides the direct risks of having these adult Atlantic salmon colonize BC rivers, the escape is causing reflection among Canadians on the impact of open net-pen salmon farming.
Ottawa still weak on fish farm risks says NDP
http://asf.ca/ottawa-still-weak-on-fish-farm-risks-says-ndp.html
Fish Farm Regulation has poor record in Canada says Leo White in NL
http://asf.ca/washington-escapes-a-sad-case-of-deja-vu.html
~~~~~~~~~~~~~~~~~~~~~~~~~~~~~~~~~~~~~~~~~~~~~~~~
To keep track of breaking news on wild Atlantic salmon, use the Atlantic Salmon Federation's presence on Facebook. Log in, search for Atlantic Salmon Federation, and click "like".
---
Anyone wishing to report suspicious fishing activity anonymously is asked to contact the nearest Fisheries and Oceans Canada office or to call Crime Stoppers at 1-800-222-8477
Until next week
TIGHT LINES
DOUG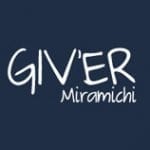 Giv'er Miramichi is about "What's up, what's new, what's happening". We are focused on building people up, supporting one another and celebrating our successes.