An Update on the UK Narrow Boat Named Miramichi
Hello Giv'er Miramichi!
I thought it was about time I updated you on our progress with our continued cruising with Miramichi on The English Canals. Since my last report in August 2015 we have covered around a thousand miles of waterways.
Since your City generously provided us with the Miramichi City Pennant, brought over by Heather and Darlene on their visit to London in October 2014, we have been surprised to note just how many Canadians decide to take a holiday on a narrow boat on the UK canals. The name of the boat immediately starts a conversation with them on why we named the boat and did we know the origin of the name. We explain our Father's background and that he was born in New Brunswick and left there from Halifax on 9th December, 1939 during WW2 and how he always talked to us of the Mighty Miramichi.
This year we have met people from Fredericton, Saint John, and from many other Canadian provinces. This September my brother Zane and I are visiting Canada to fish the Miramichi again and are booked in at the County Haven Lodge in Grey Rapids with Byron and Heather Coughlan. Our wives have decided to let the two brothers fish on their own and will remain in England whilst we explore the province following our fishing. Back in 2013 Peter Murphy and Jeff MacTavish very kindly provided us with a City Flag and other items of memorabilia, unfortunately we missed each other but perhaps this time we may have more luck.
Best wishes to all of you,
Your Ambassadors from across the Pond
Bill and Jean Blanchard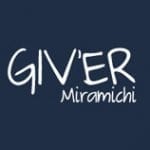 Giv'er Miramichi is about "What's up, what's new, what's happening". We are focused on building people up, supporting one another and celebrating our successes.