Operation Christmas Shoe Box – Sending Christmas Parcels to Our Canadian Soldiers
by Brenda Daigle
Operation Christmas Shoe Box marks 10 years in 2017. The campaign has served as an outlet for the people of the Miramichi region to show how much we appreciate the many sacrifices our Canadian Military make on a daily basis in order for us to live with the freedoms we enjoy.
Over the past 10 years, soldiers, sailors and air force members have expressed heartfelt gratitude for receiving these special shoe boxes. Most recently, a soldier (Soldier J) who received a shoe box while deployed, reached out to say thank you. He shared with me that as Christmas was approaching, the morale of the soldiers was at an all-time low.
"The parcels could not have come at a better time as it lifted all of our spirits. On Christmas day, Santa gave a shoe box to each of the soldiers. Along with the shoe boxes, we were given a half off to truly enjoy Christmas morning," Soldier J said. He added that many soldiers posted their letters on a bulletin board for others to read and enjoy. These soldiers felt loved and supported and it was all because of the efforts of the people from Miramichi.
Soldier J learned that his shoe box was prepared by a family he had just met prior to his Kuwait departure. Out of over 130 shoe boxes sent last Christmas, he got the shoe box from the family he just met prior to his deployment, what are the chances of that?
My son, Christopher Hennebury, was my inspiration as he served in the Canadian Military and is now retired. Chris served our country for 10 years and we have served the people that serve our country for 10 years. Rather than ending the campaign, I am passing the torch to another mother of a soldier located in Ontario.
I am extremely grateful to the people of Miramichi for making Operation Christmas Shoe Box such a success. It is because of your effort that we are responsible for putting smiles on over 1500 Canadian Military Members' faces on Christmas morning while serving overseas. It is because of you that our brave men and women felt appreciated, supported, and loved. My hope in Canada's 150th year is to send 150 shoe boxes and lift the spirits of 150 soldiers who cannot be at home with their loved ones during the holidays.
After 10 years, there are many people, organizations, and businesses to say "thank you" to, but most importantly, I appreciate my employer, NBCC, the people of Miramichi who have helped along the way, and our Canadian Military Members for continuing to protect us while they make so many sacrifices in the process. A special thank you to the diehards (Cathy Hughes, Reg Pollock, Linda Matchett & her crew, Sharon Starks, John O'Shea, Cathy Page & her crew, Mel & Marg McGraw, Paul & Bobby Cross, Dave Bucklow, my parents – John & Elaine Dickson, my daughter – Laura Hennebury, my husband – Mario, and so many more) who either contributed their time, money, efforts, and shoe boxes every year. There are too many names to mention, but I do believe you know who you are! I am grateful for our local radio stations, our newspapers, and our magazines for helping to get the word out every year. Thank you to all of the schools (Dr. Losier, Nelson Rural, Millerton School, etc) for getting involved. I would like to give a shout out to Ms. Squire's, Dr. Losier Middle School students as they have contributed every year since the beginning and I can't wait to see their smiling faces on November 3rd.
NOVEMBER 3rd is RED FRIDAY COMMUNITY PICTURE DAY: Join us in the NBCC-Miramichi gymnasium at 12:30 pm sharp. Wear red,  wave Canada flags, and make sure to smile. If you are a Canadian Military Member, a Canadian Reserves Member, a Retired Veteran or a Legion Member, please feel free to come in uniform.
NOVEMBER 9th is DEADLINE FOR SHOE BOXES: Each box will include a Christmas Card with a friendly note from home, Medicated Foot Powder/ Lotion, Power Bars, Sunscreen, Medicated Lip Balm, Wet Wipes, Hand Sanitizer, deck of cards, puzzle books, beef jerky, M&Ms, Werther's Candy. Additional items could include fudge, novels, DVDs, magazines. See list below.
A cash or cheque donation is also much appreciated! Please make cheques payable to Brenda Daigle and drop off at the main desk at NBCC or mail to Brenda Daigle at #21 – 80 University Ave., NBCC-Miramichi, Miramichi, NB E1N 0C6. For more information, call Brenda Daigle at 778-6138.
Thank you, from NBCC Elves and grateful Canadian Military members!
EVERY SHOE BOX NEEDS TO HAVE…
• A Christmas card with a friendly note from home. (Note: It is not necessary to add your full names & addresses; however, if you do, the recipients often respond.)
• Medicated foot powder + medicated foot spray (non-aerosol)
• $5 (or higher) to buy Tim Horton products to send overseas.
• Power bars
• Sunscreen (high number coverage, non-aerosol)
• Medicated lip balm
• Wet Wipes
• Hand sanitizer
• Playing cards, puzzle books
• Small pkgs of Kleenex (not the big boxes – just pkgs)
• Beef jerky
• Microwave popcorn
• M & Ms (the only chocolate that won't melt)
• Gum
• Werther's candy
BUT IT SURE WOULD BE NICE TO ALSO HAVE…
• Homemade Fudge
• Canadian Magazines (i.e. Giv'er Miramichi, Saltscapes, etc)
• Novels
• Small writing pads + pen and/or pencil
• Feminine hygiene products
• DVD Movies/Series (used or new)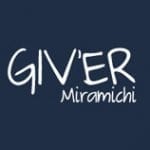 Giv'er Miramichi is about "What's up, what's new, what's happening". We are focused on building people up, supporting one another and celebrating our successes.