Miramichi Fishing Report for Thursday, November 2, 2017
NEXT WEEK: The Christmas Shopping List
MIRAMICHI – Another angling season is in the books. The last three weeks of the season provided very good salmon angling, but we must wait to see the final numbers to make a proper assessment. Striped bass also picked up during the final weeks of the season.
Jim Laws of Miramichi Hunting and Fishing in Newcastle, Miramichi reported good numbers being hooked by both bait and lures, There were some big fish, with reports of heavy leader being snapped as anglers fish both from shore and from boats. Hopefully the daily bag limit and possession limit will be increased for the 2018 season.
With angling over for another year, most anglers simply chuck their equipment out in the garage or in the basement where it remains until next season. Wise anglers will take a few minutes to examine their equipment and properly prepare it for winter storage. This ensures a better start next year because the gear will be in top shape for another season.
First look at your waders unless you still plan to use them for some duck hunting. When you have finished with them, they should be thoroughly dried and stored in a cool dry place. Avoid the furnace room as high heat may cause cracks, producing an unpleasant surprise next spring. The late George Routledge always suggested hanging them up side down, or if they are hung by the braces, that they barely touch the floor with no wrinkles in them. Putting some newspaper in the boot part will prevent moisture and mold from setting in. If the waders are the type without a boot, make sure they're rolled rather than folded as creases will crack.
Next, the rod definitely should be taken apart if still together, or it may never come apart. Dry and wipe it down, removing dirt and dampness. Make sure the cork is dry, and then store it in a place with moderate temperature, and out of the way until spring. This ensures it doesn't get other stuff piled on it resulting in breakage. A bit of para-wax on the male end will make it fit better next year. This is a good practice several times throughout the season even. Check guides to see if they need repair or that there is no fraying of the binding. If a touch up is needed, now is the time to get it done to be ready for opening day.
The line and backing should be reeled off, stretched, cleaned and dried. Then it can be coiled loosely and stored for next season.
To clean, use plain water or silicone to grease-clean it. Cortland puts out small pads which sell for about a dollar or two. These can do several lines. This helps against cracking. If the backing is over three years old, replace it. This might save losing a nice bright grilse or salmon (not to mention the line itself) next season.
Routledge suggested taking the reel completely apart, letting it dry and cleaning all dirt from it. Then it should be given a covering of light oil that is heat resistant. He suggested three choices: 2 in 1, Singer sewing machine oil or a light gun oil. He cautioned against using WD-40 as it is a penetrating substance.
Next, empty the fly-boxes so flies and boxes can dry thoroughly. This will stop rusting and ruining the hooks as well as the metal boxes. Make sure the box is clean. Then organize the flies as you put them back with the spring streamers in one area or box, the larger flies for June and early July in another, the summer flies and smaller hooks for late July and August together and then the fall patterns. One might even put the open box in a Tupperware container with a couple of moth balls to make sure nothing eats the hair and feathers. Make sure everything is completely dry before sealing. Don't forget the flies still on the vest or hat, or where ever you keep them while on the river.
The vest should also be dry, pockets emptied of debris and minuscule lunches, bottle tops, old fly dope containers and any other garbage. It may even be washed or dry-cleaned. Then replace all equipment making sure covers are tight on such bottles as gink or xink, dry fly sprays, fly dope, or scent etc. These can destroy a perfectly good vest. Don't forget to put the polarized sun glasses and glasses-holders back in the vest so you have them next season.
Routledge suggested throwing away any leader that is no. 6 or 8 as it may rot. Losing a bright grilse next June is not worth the cost of a new roll. He said no. 10 and up, could be kept providing it is not too old.
Even the landing net should be dry and stored.
If all of these simple things are done, it will put you in fine shape when the fever hits again next spring. T
Take a trip to the upper stretches of your favourite stream. You make be lucky enough to see the salmon actually spawning.
Watch as the hen salmon uses her tail to dig her redd (a small bed in the gravel where she will deposit her eggs). Then watch as she hovers over it, dropping eggs. You will probably see another dorsal fin zoom in next to her, as the male fertilizes the eggs by releasing his milt. It is nature's miracle, and the future of the sport we love. And it is a great excuse to get even another trip "on the water."
Now that angling is actually over, join a salmon conservation such as the MSA, or fly-tyers group in your area, and get involved over the winter. When you hit the water next spring, you'll feel more a part of the whole process, and it's a good way to further interest in the sport we love.
---
Don't forget to show your support for our sponsors, because without them, this column would not be possible.  

ANY FINANCIAL CONTRIBUTIONS TOWARD HELPING WITH THIS COLUMN ARE GREATLY APPRECIATED.
A SPECIAL THANKS to all who have made contributions so far this season.
Click here to donate now. Or to donate by mail, send to:
Doug Underhill
438 McKinnon Road
Miramichi, NB, Canada, E1V 6G2
If you would like to sponsor or advertise in this column, give us a call at (506) 352-7668 or email .
---
Thought for the Week: "The first thing a any fishing guide should do is cut the first two inches off of his tape measure. Works great when it comes tip time at the end of the day." – Donnie Hodge, University of Southern California
---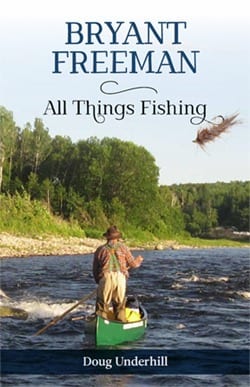 Bryant Freeman: ALL THINGS FISHING by Doug Underhill
NOW AVAILABLE in Stores
or from Doug Underhill
438 McKinnon Road
Miramichi, NB
E1V 6G2
or Bryant Freeman 1-506-386-6269
Cover price $19.95
Shipping to Canada $25.00 (Incl shipping & handling)
To US $30.00 (incl shipping & handling)
---
The Coalition for Better Salmon Management (CBSM) now has a website at salmonnb.com, which has been expanded and updated. It already has a membership over 1,000 and is a major voice for salmon conservation here in New Brunswick.
---
Email:
Cumulative counts to date of salmon as of October 31
* indicates fewer than 5 years are available to calculate the mean.
N/A indicates that no values exist for that year, date of operation may vary from year to year.
Cumulative counts to date of grilse as of October 31
* indicates fewer than 5 years are available to calculate the mean.
N/A indicates that no values exist for that year, date of operation may vary from year to year.
Atlantic Salmon Federation News
Thursday, Oct. 26, 2017
ASF RIVERNOTES – The Week When The Rains Came
~~~~~~~~~~~~~~~~~~~~~~~~~~~~~~~~~~~~~~~~~~~~~~~~
In Gaspe and the headwaters of the Miramichi and Restigouche rivers, the rains finally came. Check out the graph. In PEI, Atlantic salmon still coming in.
http://asf.ca/asf-rivernotes-26-oct-2017.html
ISA in NL Cage Site Prompts Cooke to Harvest 50,000 Farmed Salmon
~~~~~~~~~~~~~~~~~~~~~~~~~~~~~~~~~~~~~~~~~~~~~~~~
An outbreak of ISA has resulted in the slaughtering of near-market ready salmon in a site owned by Cooke Aquaculture on NL's south coast.
http://asf.ca/isa-virus-prompts-salmon-harvest-in-nl.html
CBC interview provides Provincial Gov't Perspective on ISA
~~~~~~~~~~~~~~~~~~~~~~~~~~~~~~~~~~~~~~~~~~~~~~~~
Minister Gerry Byrne goes on The Fisheries Broadcast to give his views on the presence of the virulent form of ISA in a cage site.
http://asf.ca/isa-on-the-south-coast-of-nl.html
BC Gov't Reviewing Procedures at its own Salmon Lab
~~~~~~~~~~~~~~~~~~~~~~~~~~~~~~~~~~~~~~~~~~~~~~~~
The procedures used at the province's lab are being reviewed
http://asf.ca/bc-provincial-salmon-lab-procedures-being-reviewed.html
~~~~~~~~~~~~~~~~~~~~~~~~~~~~~~~~~~~~~~~~~~~~~~~~
To keep track of breaking news on wild Atlantic salmon, use the Atlantic Salmon Federation's presence on Facebook. Log in, search for Atlantic Salmon Federation, and click "like".
~~~~~~~~~~~~~~~~~~~~~~~~~~~~~~~~~~~~~~~~~~~~~~~~
The Atlantic Salmon Federation's Annual New York Dinner on November 8th is offering On-Line Bidding starting today!
| | | |
| --- | --- | --- |
| If you are unable to attend the event in honor of Orri Vigfusson, you can still support the good work of ASF through our on-line auction. | The Silent Auction offers some rare finds, specialty items and an amazing selection of flies. | Live Auction auction items include a one of kind Hardy Reel, plus exursions to Greenland, Iceland, Russia, Africa, Argentina and Ireland. |
Click here for more details on the event and for reservations
PS. Have a great photo of Orri that you'd like to share? Send it to us!!
---
Anyone wishing to report suspicious fishing activity anonymously is asked to contact the nearest Fisheries and Oceans Canada office or to call Crime Stoppers at 1-800-222-8477
Until next week
TIGHT LINES
DOUG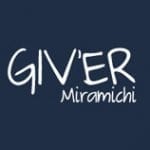 Giv'er Miramichi is about "What's up, what's new, what's happening". We are focused on building people up, supporting one another and celebrating our successes.