Operation Kind Kids – Spreading Random Acts of Kindness
Kindertots Children's Centre is teaching children that being kind to others can make the world a better place.  They've started a program called Operation Kind Kids that lives by the motto "If we all do one random act of kindness daily, we just might set the world in the right direction."
The goal of Operation Kind Kids is to promote community involvement and social responsibility. "We are hoping to instill in children that you don't need to get something in return for acts of kindness" says Charlene Dignam-Conroy, owner/operator of Kindertots Children's Centre Inc. in Miramichi.
The children have been participating in various random acts of kindness throughout Miramichi with the most visible project being the Community Pantries.
Community Pantry Project
There are four community food pantries located in the City. These are wooden cupboards with see-through doors that hold non-perishable food items. People of our community are free to take or leave food. Anyone who needs food is welcome to use the pantry. Staff ensure the pantry is well-maintained and the children enjoy dropping by with donations of their own. Carter Richard, pictured here, had been saving his money for a toy but once his mom, Kayla, told him about the community pantry he decided to use his money to buy food for the pantry!
The pantry locations are: 122 Hutchison drive Douglastown; University Ave Chatham (Thank you Peggy McLean); Campbell Street Newcastle (Thank you Kacie's Afterschool Program); and Wellington Street, Loggieville (Thank you Amanda and Scott Cabel).
Operation Kind Kids thanks all those who have sponsored and donated to the food pantries: Kent building supplies, R.W. Kelly & Son, Conroy Construction, Archway Insurance, 99.3 The River and the community for your donations.
The children and educators have been involved in more random acts of kindness, such as:
Delivered treats to the following locations: Northumberland Square Mall Employees and Bridgeview Plaza. The children baked, decorated and delivered cupcakes to Sobey's staff.
Passed out bubbles and suckers to children while out on field trips
Passed out dog treat to people out walking their pets.
Replaced the hanging flower baskets that were destroyed at Salt Water Sounds.
A thank-you pizza lunch was delivered to the Early Childhood Education Class for their volunteer day.
Thank-you bags were given to our local police officers for their hard work.
Delivered a treat basket (including Bologna with Mustard and Mayo for Paddy and Darcy) and visited Sun FM.
Donated a basket of supplies (craft items, paint, sun hats, gardening tools etc.) and a cuddle therapy Doll to the Mount Saint Joseph Nursing home, and visited to decorate rocks with the residence for their community garden.
Planned a FREE yard sale on November 4th at the Loggieville Rec Centre.
Are going to participate in the Christmas event with Sun FM. They will have names on a tree of seniors and their Christmas wish, with the goal is to purchase gifts for at least 10 seniors.
They have sent out letters to each of the Childcare centres in Miramichi asking then to participate in the random acts of kindness as well.
To learn more about Operation Kind Kids or to donate to the Community Pantry Project contact Kindertots Children's Centre at 506-778-3936 or
This article was originally published in the Christmas 2017 Issue of Giv'er Miramichi magazine.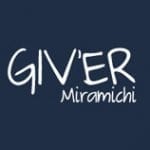 Giv'er Miramichi is about "What's up, what's new, what's happening". We are focused on building people up, supporting one another and celebrating our successes.