The Miramichi Wellness Holistic Fair is Back for a 5th Year
The Miramichi Wellness/Holistic Fair is back after a two-year hiatus and will be held on the weekend of May 12-13, 2018 at the Miramichi Curling Club.
Organizer Joanne Maillet is very excited to be back planning the fair. "I took some time off for personal reasons" says Joanne, "and now I am back in the zone and getting ready for a great fair! I invite you to come and discover ways of healing the body, mind, spirit and soul."
The fair will be a two-day event on Saturday and Sunday, May 12th and 13th from 10am to 5pm at a new location, the Miramichi Curling Club (French Fort Cove Eco Centre), 21 Cove Road.
Approximately 45 booths are expected with various wellness and holistic healers and vendors. Special presentations and free 45 min. seminars will also be held on both days, and vendors are invited to host an information session or workshop to promote their area of expertise and share their knowledge. Stress reduction, therapeutic music, life coaching, intuitive readings, angel therapy, holistic healing, spiritual books, stones, crystals, and essential oils, are examples of some of the services and products that will be displayed at the fair.
The fair will be on Mother's Day weekend and Joanne hopes people will take the opportunity to do something different with their moms. "It's a nice relaxing day to spend with your mom or a friend", says Joanne. "and there will be lots to see and do. Many vendors will be giving demonstrations of their services and healing techniques at their booths, the workshops and presentations cover a variety of topics, and there is a food vendor on-site and many gift items available to purchase."
Vendors usually attend from all over New Brunswick, PEI and Nova Scotia and more and more  businesses from the Miramichi Region are getting involved as well.
"People are becoming increasingly more interested in alternative and holistic healing and many don't realize the services that are available right here in their own region," Joanne says. "Our last fair was very well attended by the community and we were very pleased with the support. Many vendors said they were consistently busy at their booths for both days, and that is saying something for our little fair!"
The phrase at the top of the vendor application form sums up what the Wellness/Holistic Fair is all about Let us set our intentions to have our hearts and minds open for Love, Light and Oneness to serve the Greater Purpose.
"We are a heart-based fair," Joanne says. "Of course we want the vendors to sell their products and services because that is how they make a living, but we also stress the importance of educating the community by explaining what you do and taking the time to make connections with the people who attend the fair."
A unique feature of this fair is the 40 foot labyrinth which will be installed in the same hall as the booths and open to all attendees to use.  Walking a labyrinth is an active meditation that Joanne describes as "a journey within". You may ask for clarification on a certain challenge or ask for direction in life or a healing. Labyrinths have been used for centuries as a form of relaxation, a form of walking meditation, to evoke mindfulness or even just for fun!
Admission is $5 for adults for one day, and $8 for both days. Children aged 12 and under get in for free. To give back to the community, Joanne will be donating booths to a couple of non-profit organizations, space permitting.
Attention Vendors!
There are still presentation spots and booths available for vendors.
If you are interested in being a vendor at the Miramichi Wellness/Holistic Fair or doing a 45min presentation or workshop, contact Joanne Maillet at .
​The deadline to submit your application is April 14th, 2018.
For more information visit the website at www.miramichiwellnessfair.weebly.com and Facebook page Miramichi Wellness Holistic Fair.  Or contact Joanne directly by email at . Or telephone her home phone at 506-775-1009 or text msg 506-424-1154.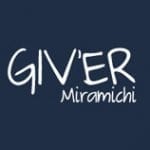 Giv'er Miramichi is about "What's up, what's new, what's happening". We are focused on building people up, supporting one another and celebrating our successes.