Studio Seven Artisans Makes Room for Groove It Music+Merch
Studio Seven Artisans has decided to open up their back room to make way for Groove It Music+Merch, "Miramichi's little record store that could".
Studio Seven Artisans is operated by Seven Threads owner & designer Sandra Sullivan. Sullivan's true artistic passion shines through her creations, which vary from clothing fashion & "re-fashion" to jewelry & all forms of visual art media. Sandra's clothing designs have been featured in several fashion shows, which she's hosted around the region for well over the last two decades.
During the Summer of 2017, Sandra transformed her backyard garage into an all-things-art store. "I'm proud to say that the store is also now home to Caitlyn Crawford's Freedom 23 Apparel and Stephanie Clark-Fowler's Thrift Ho clothes", says Sandra. "And we also have the award-winning Christopher Doiron Pottery, locally made Clean Suds soap products and, of course, my whole line of Seven Threads designs."
In addition to the floor space being filled with those materials, Studio Seven's walls display a wide variety of visual artists such as Laura Blackmore, Mel Raeburn & Terry Whalen. "And we're always in contact with lots of other artists that would like to bring in their works", says Sandra. "So, the opportunities for a wide selection of artisans are endless. It's fabulous!"
Just as the structure was being prepped for the elements of the colder months, this past Autumn, Sandra came up with a last-minute idea that would give Studio Seven Artisans a unique twist. While on a "thrifting" trip to Fredericton, she decided that her store needed a used vinyl section, of all things. "My partner, Wynn [Curtis], had wanted to bring in local musicians' products to help promote their crafts & the idea certainly fit what the space is all about", says Sandra. "It's something that he's been doing with his Groove It Music+Merch online "store" through his Gig & Groove promo page, for the last couple of years. So, it was obvious that Groove It needed to be included in the shop. But he [Wynn] always said that if he had something else to balance it out, to attract more music buyers toward local artists, he'd feel like he was really accomplishing something special. So, during a visit to a couple of the capital's downtown record shops, we surmised about whether used records sales could succeed at home & hopefully turn those shoppers on to the local stuff, at the same time.
"Thankfully, it's been working", says Wynn. "About one out of every five or six of our used records customers have shown interest in the local discs & we're now selling a few per week. So that's a start. The used vinyl is certainly attracting the true music supporters in the area, for sure. It's great to see. And hopefully that interest in the local stuff will keep on growing."As demand for used records & the newer local discs grew at Studio Seven, it was evident that the selection of inventory had to grow with it. Before the ball dropped ringing in 2018, plans were already being drawn up to re imagine the storage room in the back of the shop. "We joke that it's the little record store that could", says Sandra. "And so began the transformation."
As for those plans?"We're actually a few weeks ahead of schedule, which is just excellent", Sandra says. "The expansion on Studio Seven is going quite smoothly & we're hoping to have the new room open by March 21st."
"We're also very excited for 'Record Store Day' on Saturday, April 21st", says Wynn. "It's the real official opening of the store, itself. When we started out in a cozy little corner at Studio Seven, in late November, we launched with only two old standard milk crates of records. By New Year's, we doubled that inventory & we've now doubled the whole thing again. We're up to four full crates of classic Rock & Pop. We have a cool Country bin. We have an Oldies (or Vintage) bin & we're really proud that we're right on the edge of introducing our new World Music bin. Our Blues & Jazz selections are even starting to build. So, we're very happy about how record collectors in the region have responded."

Groove It Music+Merch is more than just a record store, of sorts. Additionally, it's now the main office of Miramichi's Gig & Groove Magazine. "In all actuality, it's a little think tank for artists, mostly musicians, to meet up and hang out, bounce ideas around", Wynn explains. "Besides, us music nerds need to have some place to hang out around here. Haha! It's a great space to discuss projects & be creative, really. The bonus is that we just happen to be surrounded by hundreds of pristine records. And there's certainly nothing wrong with that!"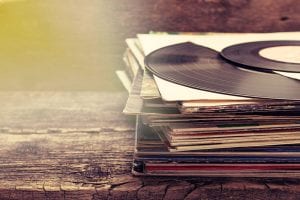 Whether you're a real purist audiophile or simply a shopper that just wants good records to spin for those leisurely entertainment purposes, Groove It Music+Merch is all about filling the bins with vinyl that's in the best condition they can find. And when you step through the door at Studio Seven Artisans, you'll instantly see that great care has been taken to provide their shoppers with records that will bring years & years of enjoyment, worry free.
"We don't just slap any old vinyl up on the shelves and sell as is", says Wynn. "You won't find anything ratty in the sleeves in here, believe me. There's a whole quality control process that we put each & every record through. We start by carefully cleaning the outer jackets. We like to remove any old pricing stickers or whatever, if possible, anything that takes away from the appearance of the original album art. Then, we give the records a proper bath in our spin clean solution so that the brushes can work to remove years & years of dust & other residue. The record then drips nearly dry for a few minutes. And then each individual record is buffed off with a static-free micro fibre cloth. The whole process is like a face lift, returning the record as close as possible to the days of its glorious youth.
"By having a nice clean product, it makes it easier for us to inspect the integrity of the grooves so that we can accurately rate & price each record fair & square. A record that is considered "excellent" typically falls into the $10 to $12 range, unless it's a real rarity or a first pressing, what have you. Then it could possibly be a little bit more. And items of lower quality could be rated anywhere from "poor" to "fair" or "good", right up to "very good" & "very good +", which ranges from around a minimum of four dollars to twelve dollars max, again depending on the demand of that particular record. And, of course, double & triple album sets are also priced accordingly, depending on quality & importance, etc. "We also have what we like to call the "duds bin", which is our red crate of lesser quality stuff that sells in the two to four dollars bracket. Surprisingly, there are even buyers who want those old relics simply for the vintage artwork on the jackets. So, even those discount records are a great affordable little hobby for certain consumers.
"Our ratings are basically the same system that most of the other respected record stores out there are using to price their used stock", Wynn explains. "The only possible difference that I can think of is that we might be a little fussier about the actual cleaning process than some of the other sellers may be. But for us, it's all about the collector leaving the shop feeling like their used vinyl purchases are as crisp as they'll find anywhere around. Our theory is that that loyalty to the buyer will keep us around for the long haul. That's our hope, anyway."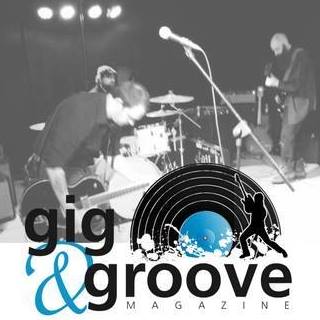 Quality control is definitely something that Groove It Music+Merch believes in. But the inspecting of records can also have its limits for certain tasks.
"The only thing that we don't like to tamper with too much is the album jacket, itself, beyond a light cleaning", says Wynn. "If a jacket, or even an inner sleeve with art, is coming apart at the seams (i.e.: dried out glue, etc.), we prefer to leave it as is & let the buyer decide how they want to seal it back up, once they purchase it & take it home. That way, we're not changing the integrity of the art, something that many of those purists out there typically appreciate. How they maintain their own personal collection is their own business. So those repair choices, beyond a simple cleaning, should be theirs & theirs only."
Since Groove It Music+Merch also doubles as Gig & Groove's "hq", the little back room think tank coincides perfectly with Seven Threads creative studio space. "I have my old basement studio that gets a lot of use for designing & re fashioning", explains Sandra. "It's also a great space for other artists to come in & create or to hold workshops. So the idea is that the Seven Threads studio & the Studio Seven Artisans store are both designed, hand in hand, to completely support artists of all types. We even have a beautiful, intimate backyard space that makes a great little hangout in the warmer months. And plans are already under way to make better use of that space for visual artists & musicians alike. It's exciting making dreams become reality. And it's especially thrilling to watch other artists grow & succeed, too. For us, that's what real community is all about."
Studio Seven Artisans & Groove It Music+Merch will celebrate their grand opening on Saturday, April 21st. For the event, Sandra & Wynn promise that they have a few surprises in their sleeves. Studio Seven is located at 242 Sweeney Lane, Miramichi. Currently, the store is open from Wednesday to Saturday, noon to 7pm, weekly. You can also shop by appointment, by calling: Seven Threads / Studio Seven Artisans: (506) 625-6877 or Groove It Music+Merch / Gig & Groove Magazine : (506) 625-8817
Links: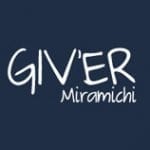 Giv'er Miramichi is about "What's up, what's new, what's happening". We are focused on building people up, supporting one another and celebrating our successes.