Purchase Your Memorial Butterfly by June 30th
Annual Butterfly Release and Family Day
On July 21 Hospice will be holding their 3rd Annual Butterfly Release and Family Day on the grounds of 14 Howard St. from 12-4 PM.  There will be pony rides, a petting zoo, reptile exhibit, bouncy castles, face painting by Amy, BBQ, live entertainment and more. The admission to the grounds is a good will offering.  For the butterfly release we are asking the public to purchase their butterflies in memory of loved ones before the end of June. Butterflies are $20 each and can be ordered by calling 773-7607, in person at 14 Howard St or at the Hospice Shoppe on Water St. in Chatham or by e transfer at . Your butterfly purchase includes admission to the grounds. Butterfly registration and pre-order pick up is at 1:30.The release takes place at 2:30.
This year we have added a new component to the family day with "The Amazing Community Hunt for Hospice." This family themed activity begins at 10:30 am. There is a registration fee of a $25 pledge which includes admission to the grounds plus a team butterfly to release. At registration you will also receive a clue directing you to the next location. Prizes will be given out for the first 2 teams finishing the event as well as the team with the most pledges. Registration for this event ends on July 14th. Registration information and pledge forms can be found on our website at www.hospicemiramichi.com
What Can Hospice Do For You?
Hospice Miramichi Inc. (HMI) is a charitable organization that was established in 2012.The goal of the organization is to provide support to individuals affected by life-limiting/life-threatening illnesses regardless of age. As a potential client, you may think that HMI only offers support to the dying and that you aren't there yet but contrary to your belief we offer an approach to care that supports you, the living, until you can live no longer. This support should be offered to you when your doctor tells you that you have an illness from which you will probably not recover. These illnesses include, but aren't limited to, diseases of the heart like Congestive Heart Failure; diseases of the lungs like Emphysema and Lung Fibrosis; Neuromuscular diseases such as ALS, Multiple Sclerosis; Kidney failure; Cancer; Stroke; Alzheimer's and more. Effects from this illness will eventually cause your death but it probably won't happen in the near future. With the early introduction of our service we are able to tailor our support to your needs by asking the simple question "What do I need to know about you that will help me give you the best care and support possible?"
Are you staying in your home more because it's easier that way? Do you feel that friends and family treat you differently since your diagnosis? Do they change the subject when you bring up the topic of your declining health with statements like "Let's not talk about this as it makes you upset…" or "Don't say that, you are going to get better." If this is what's happening to you perhaps you would consider the services of our Outreach Program. Volunteers from this program are able to provide companionship in your home for a few hours a week acting in the capacity of a friendly visitor. They will listen without judgement and treat you like a person not a disease. Although our volunteers do not give hands-on care or perform housekeeping duties, they can get you a light lunch, keep you company so your caregiver can have a break or drive you to an appointment. Would you like to receive support from others who are living with life-limiting illnesses? Perhaps you can attend our Day Hospice Program. This onsite program is the first of its kind in New Brunswick. Here you can take part in a variety of activities ranging from crafts, games, outdoor activities, music and more. Others who have attended the program have used the following expressions when asked what impact the program has had on their lives. "It gives me a reason to get up in the am"; "It puts life back in my life" or "The wonderful sense of belonging, the unconditional love, and the unexpected and beautiful friendships…. the fun and laughter we share, as well as our tears and tough times. The atmosphere is so warm it's like a cocoon."
Whatever program you choose call 773-7607 to start the assessment process. The services are free however donations are accepted to offset the program expenses. One such expense is the cost of transportation. If you are unable to find a drive to Day Hospice we will arrange transportation at a small charge to you.
Helping Hospice 50/50 Bucket List draw.
To assist with operating expenses HMI needs to fundraise.  In addition to proceeds from the Hospice Shoppe we have two major fundraisers; Family Day as mentioned above and a Helping Hospice 50/50 Bucket List draw. This will be an ongoing fundraiser with draws every 4 months. With each draw we are selling 1000 tickets at $10 each. The winning ticket holder has the chance to win $5000 or half of the dollar value of the number of tickets sold. Tickets are available for purchase at Miramichi Meat, City Limits Convenience, N&J Convenience, Forever Flooring, Hospice office, Hospice Shoppe or by phone 773-7607. First draw date is the last Monday in August or when all 1000 tickets are sold, whichever comes first.
For more information on our programming contact 773-7607 or email . If you are interested in volunteering with Hospice Miramichi contact Connie Doucet at 773-7607 to arrange for an interview.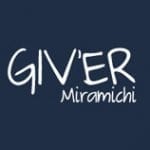 Giv'er Miramichi is about "What's up, what's new, what's happening". We are focused on building people up, supporting one another and celebrating our successes.