by Deanna and Peter Gadd
Are you interested in birding in the Miramichi area? There are several "hot spots" that Nature Miramichi would like to bring to your attention.
Miramichi Marsh – located in Miramichi East off Ironmen Road just west of Retirement Miramichi. There is a 1.7 km trail that leads through a small wooded area onto berms that surround two freshwater ponds. This site was developed by Ducks Unlimited and opened in 2005. The easiest way to find the trail entrance is to approach from immediately opposite the call centre on the slope above and take a path that crosses a grassy area. At this site you will find a variety of ducks and marsh birds as well as woodlands birds.
The Miramichi Naturalists' Club has identified 116 bird species that either reside in this area or pass through during migration or while searching for food. Some birds you might expect to see include Sora, American Bittern, Tree Swallows, Eastern Kingbird, Yellow Warbler, Common Yellowthroat, Chestnut-sided Warbler, Gray Catbird, Red-eyed Vireo and a variety of sparrows. Occasionally such birds as a Scarlet Tanager and Baltimore Orioles are seen as well.
A walk along the grassy area on the Retirement Miramichi side of the woods gives you an opportunity to see more of the woodland birds. There is a remarkable variety there sometimes for such a small area.
French Fort Cove – located in Miramichi West off King George Highway. There are two parking lots, one opposite the Miramichi Tourism building (Eco Centre) on Cove Rd. and the other off King George Highway, almost opposite a tall former sawmill burner smokestack. There are many kilometers of walking trails in this park that lead you through woodlands with considerable diversity of trees. Many woodland birds can be seen or heard in this area particularly in the spring and summer months. The trails are quite hilly but there is a wide choice of options so walks do not need to be long. Songbirds you might expect to see include many warblers such as American Redstart, Ovenbird, Northern Parula, Black-throated Blue Warbler, Tennesseee and Nashville to name a few. There are thrushes, vireos, and kinglets. Ruffed Grouse, Ravens and Pileated Woodpeckers can be found too.
Strawberry Marsh and nearby water treatment lagoon (and the surrounding trail) – located in Miramichi West directly across from a former shopping mall at the Newcastle end of the Miramichi Bridge. Driving access to parking is immediately next to the Paul Hayes building of the waste water treatment plant. Go right and through the tunnel and a short trail is on the right.
This trail will take you along the edge of a freshwater marsh. There you are likely to see Red-winged Blackbirds, sparrows, Green-winged Teal and warblers including the Common Yellowthroat. You can also walk along the river shore where in the spring and then from mid-summer on, shorebirds can be seen feeding.
Looking across to Beaubears Island you might see Bald Eagles. A variety of ducks also spend time in the water treatment lagoon. On the river during the early spring you will see many Double-crested Cormorants fishing for Gaspereaux and during migration Common Goldeneye, Common Mergansers and so on.
Iles aux Foins (Hay Island) – this island juts out into Miramichi Bay and is home to a well maintained municipal park in the village of Neguac, a 30 minute drive east of the City of Miramichi on Highway 11. This Island has a variety of habitats; freshwater and saltwater marshes, sand dunes, woodlands, a saltwater estuary and a saltwater shoreline. Of course, then, it has a great variety of birds that are either passing through or are nesting in the area. Access is possible over a short bridge and there is ample parking. There is a boardwalk around the freshwater marsh and trails through the wood. There are also several miles of "walkable" sandy beaches. Hay Island is one of the best spots for observing migrating shorebirds as well as nesting Willets which can be found towards the northern end of the island. Avoid getting too close to their nesting area when there are young, the parents do not take kindly to intruders.
For more information about what birds may be seen at these "hotspot locations" and elsewhere in Northumberland County visit the eBird © database at eBird.org and under "Explore a Region" enter Northumberland County NB. Feel free also to contact Nature Miramichi at .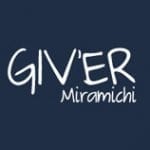 Giv'er Miramichi is about "What's up, what's new, what's happening". We are focused on building people up, supporting one another and celebrating our successes.