4 Hours at French Fort Cove – Bike Miramichi Event
4 Hours at French Fort Cove – Bike Miramichi Event
On September 16th, 2018 Velo NB and Bike Miramichi hosted their Annual 4 Hour French Fort Cove Mountain Bike Event.
The main loop for the event was 10.8 km and the youth category had a 6km loop.
Participants of the event must do as many laps as they can around the designated loop they've signed up for in the 4 hour time frame.
If a participant or team finish a loop at 3h 59 mins, they can continue to do one more lap if they wish.
This year's event included cash prizes of:
$100
$50
$25 for participants that placed 1st, 2nd and 3rd places, as well as attendance prizes.
The event had 44 registered participants.
The event comprised of 5 groups:
Solo Males (35 participants)
Solo Female (2 participants)
Team Adult ( 2 teams of 2 participants each)
Team Adult + Youth (2 teams of 1 adult + 1 youth each)
Team Youth ( 3 teams of 2 participants each)
Race results were as followed:
Solo Male
1st place- #1 André Landry (Independent participant) 8 Laps (80pts) Time: 04:22:17.2
2nd place- #113 Terry Tomlin (Oakley Atlantic Racing) 8 Laps (70pts) Time: 04:25:34.9
3rd place- #3 Christian Charette (The Radical Edge) 7 Laps (65pts) Time: 04:02:30.3
Solo Female
1st place- #124 Guylaine Chiasson 5 Laps (80pts) Time: 04:24:48.1
2nd place – #125 Audrey Normandeau 4 laps (70pts) Time: 04:03:10.0
Team Adult
1st place #1007 Wheelie Awesome (Pat & Stephen) 6 Laps (80pts) 04:27:04.4
2nd place #1005 Pokey Moms (Karen & Natalie) 4 Laps (70pts) 03:53:04.7
Team Adult/Youth
1st Place – #1001 David and his clone (David & Xavier) 7 Laps (80pts) 04:35: 56.6
2nd place- #1004 McIntyre Madness (Pierre & Emilie Chloé) 4 Laps (70 pts) 02:40:59.8
Team Youth
1st place- #1003 Les Bardaseux Chaleureux (Benoit & Patrick) 14 Laps (80pts) 040:07:36.9-
2nd place- #1002 Gear Crushers (Etienne & Pascal) 14 Laps (70 pts) 04:14:20.6
3rd place- #1006 Team Tomlin (Marguerite & Zephyr) 11 Laps (65pts) 03:59:51.1
Bike Miramichi would like to thank all of their members and their sponsors:
Incline Sports
Northumberland Coop Timber Mart
Todd Smith
And thank you to those who volunteered the day of the event. Thank you to Mr. Eric Léger, commissioner for the event.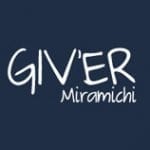 Giv'er Miramichi is about "What's up, what's new, what's happening". We are focused on building people up, supporting one another and celebrating our successes.