Old Fashioned Cooking with Darlene – Crunchy Oatmeal Coconut Cookies
Old Fashioned Cooking with Darlene
by Darlene Jardine
This is a beautiful cookie recipe that I got from my aunt. They are crunchy and full of flavour and it is so easy to "dress them up" for the holidays by adding in cranberries and walnuts, or whatever fruit and nuts you prefer. These cookies won't stay in the cookie jar for long!
Note: There was an error when this appeared in print in Giv'er magazine, and the amount of brown sugar has been corrected here and should be 1 1/2 Cups.
Crunchy Oatmeal Coconut Cookies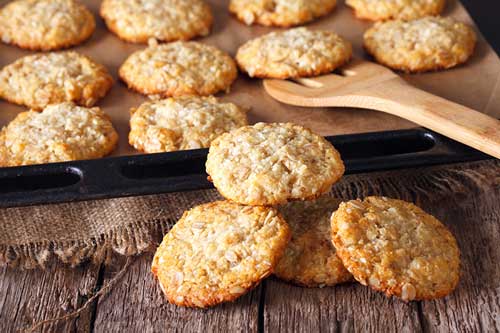 Ingredients
1 cup butter or margarine
1 ½ cup brown sugar
2 large eggs, beaten
1 tsp vanilla
2 ¼ cup flour
½ tsp salt
1 tsp baking powder
½ tsp baking soda
1 ¼ cup oats
1 cup flaked coconut
Directions
1.Beat shortening and sugar together until blended. I always do it by hand, but use an electric mixer if you wish, on medium speed. Add eggs and vanilla, beating well.
2.Combine flour, salt, baking soda and baking powder; add to shortening mixture, mixing well.
3.Stir in oats and coconut.
4.Shape into 1-inch balls, and place 2 inches apart on parchment covered cookie sheets; flatten slightly with fork.
5.Bake at 375° on the centre rack for 8 to 10 minutes.
6.Transfer to wire racks to cool.
Tip: I put at least two pieces of parchment paper, on my cookie sheet.
It keeps the cookies from spreading out and makes them a nice even golden brown on the bottom.
Variations: add mixed fruit, dried cranberries, or nuts
Darlene Jardine has worked as a chef most of her life and used to operate Darlene's Tea House in Blackville.
She has since turned it into a quaint cottage for rent in the summer.
Every year she hosts a Country Christmas Craft & Bake Sale at the cottage. (Dec.8th, 2018) www.DarlenesCountryCottage.com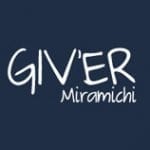 Giv'er Miramichi is about "What's up, what's new, what's happening". We are focused on building people up, supporting one another and celebrating our successes.