Gignac de Neguac; Glass Art on the Acadian Peninsula

by Lynda Briant
Another artist has moved to town! Louis Gignac has recently moved from Ottawa to establish himself in his new home in Neguac. Louis is a gifted glass worker. He was inspired in 2006 after visiting the Charles Hosmer Morse Museum of American Art in Winter Park, Florida. Louis went home to explore the many techniques of working with glass at workshops locally and in Toronto. He started out venturing into leaded stained glass and eventually gravitated towards mosaics and glass appliqué. Louis found these latter two techniques offered him more of the type of creative expression he desired.
As Louis says, he has actually been working with colour under glass for over 30 years. Louis worked as a medical laboratory technologist making blood films on glass microscope slides. He would stain the blood films on glass to identify types of cells and microscopic organisms. His scientific career was transforming into an artistic one.
Louis has discovered that light is the secret ingredient bringing life to the glass. Louis would like to instill the same child-like feelings of awe and wonder he has, in others, through this rich medium.
Louis' pieces are open for viewing by appointment once renovations of his workshop and studio are complete. Also, stay tuned for glass workshops to come. Visit Louis' website, www.louisgignac.com, for further information on Louis' passion and upcoming schedules.
Thank you for joining our community, Louis, to share your creative gift.
This article was first featured in the 2019 Christmas Issue of Giv'er Miramichi Magazine.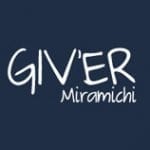 Giv'er Miramichi is about "What's up, what's new, what's happening". We are focused on building people up, supporting one another and celebrating our successes.