Newcastle Rotary donates to the Miramichi Cross Country Ski Club
Speakers this past week at our regular club meeting were Norman Brown, President of the Miramich Cross Country Ski Club, and Paula Septon, Biathlon Coordinator. Norm and Paula spoke about their new clubhouse and the creation of the biathlon course. The bulding and biathlon course were made possible through financial contributions from the province, federal government, and the Chatham Rotary Club. The new building replaces an older structure which has been moved a few times as the club changed locations. The biathlon course is only the second in NB and attracts participants from across the maritimes and Quebec, which will lead to official competitions within the city. Biathlon is an Olympic sport and combines timed cross country skiing with marksmanship. The original ski club continues to have many kilometers of groomed trails for both classical and skate technique, providing a wonderful exercise and outdoor experience for residents of Miramichi and beyond. At the end of this meeting, our group presented the ski club with $1500 towards the purchase of tables and chairs for their building.
Source: Rotary Club of Newcastle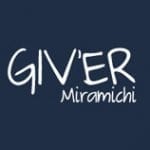 Giv'er Miramichi is about "What's up, what's new, what's happening". We are focused on building people up, supporting one another and celebrating our successes.