Surprise! Miramichi Salmon Fishing Begins Early
The start of the Atlantic salmon fishing season in New Brunswick, normally scheduled for April 15 was delayed until May 1. Then quite by surprise the opening was moved up to Friday afternoon the 24th of April. This was certainly welcomed by anglers, and conditions were excellent with a comfortable height of relatively clear water and good weather.
Jason Curtis said that he went out just across from his home in Blackville and in no time quickly caught a couple of grilse. Byron Coughlin of Country Haven, which is a very active outfitter for spring salmon fishing, had pictures of salmon, one that he said was caught within the first five minutes of the start of fishing. Eddie Colford of Black Brook Salmon Club reported that a little time on the river produced 2 salmon and 2 grilse for him. Salmon angling pages on Facebook also have more salmon pictures and positive comments like Derek Donahue saying that "fishing was wicked good this evening." While there is no denying that last year's run was relatively weak, there do seem to be plenty of kelts in residence in the river, and that's a good thing!
The beginning of the  bright salmon run is only about a month away. Statistically speaking we are due for an uptick in salmon numbers. Also, the striper numbers in the estuary have been down a bit over the last two years, and we can hope that will begin to mean larger runs of grilse and eventually large salmon. I'm certainly approaching this season with a guardedly optimistic outlook.
On Friday morning I listened to the CAST/Collaboration for Atlantic Salmon Tomorrow science broadcast which updated everyone on the scientific work they are doing on the Miramichi system. There were a variety of topics covered, and while much of the discussion was about the scientific approach being used, there was some very interesting information shared. I'll write a little bit about each topic below.
• The Fall Migration – I thought this was an unusual discussion topic considering everything else on the table these day, but it was interesting none-the-less. The fall migration has actually been studied in great depth by the Provincial authorities in the past. In the last couple of years both CAST and DFO have been tagging fish moving up the rivers with radio transmitters to see where and when they go. I caught one myself last fall that was tagged by DFO. If you scroll back to last October's blog you can see a picture of it. DFO has not yet made any information available… but a couple of interesting take-aways from the discussion were that, the fall run does not begin until water temperatures dip below 15C/59F. That timing varies, but the middle of September is normal. The run increases in a pronounced way when temperatures reach 9C or 48F. That is normally in early October. The fish entering the river move upstream at about 1.5 to 2 KM day unless there is a major raise of water. I was a bit surprised to learn that it was such a slow progression.
• The Aris cameras which used to be installed in Blackville are now being utilized further up the river. Now that CAST is more comfortable with using the cameras they are talking about the accuracy of the counts compared to the estimations made by the DFO mark and recapture approach. It was readily stated that the difference between the mark and recapture versus the camera counts can have the mark and recapture counts 60% to the downside or as much as 40% to the upside of the cameras. That strikes me as a huge discrepancy. It is uncertain which method is really more accurate. It is beginning to look like the Cassils, Millerton, mark and recapture method will be the standard for some time to come.
• River temperatures – one of the CAST scientists has been doing a lot of work over the last few years on river temperatures. I listened to a presentation on this last year too. If I understand the very basics of it, it is that water temperature in a particular section of the river depends more than anything on the kind of ground material that is underlying the nearby drainage. Shale rock – one can see the shale ledges along the sides of many of portions of the Miramichi watershed – holds immense amounts of water and dispenses it slowly into the river keeping it as year round low temperatures. That isn't to say that clear cutting isn't a factor in water temperature, but according to the science it is not as critical a factor as one might have assumed.
The work done so far has only been presented for August, but July numbers are coming. In August it was determined that on average the entire river system stays below the critical water temperature of 23C for salmon. That isn't to say that some sections don't occasionally surpass that temperature, but the average temperature stays below that and is suitable for salmon in various life stages. The study emphasis was on parr, since without them there will be no salmon.
• Miramichi brook trout of 12 inches or longer are believed to be almost entirely sea run or anadromous fish. According to the research in the Southwest Miramichi main stem these fish have been declining in numbers since 2011, and in the Cains the decline has been going on since 2004. There is no certain proof as to the reasons for this decline, but striped bass and striped bass fishing are the greatest suspects. First the smaller brook trout are easy prey for the striped bass, and second striped bass fishermen in the estuary frequently catch and retain the larger brook trout when fishing for stripers.
If you want to help on the sea run trout see this link to our Action Request for sending e-mails to Minister
Holland requesting that the release of all trout larger than 12 inches be manadatory https://www.bradburnsfishing.com/action-request-on-sea-run-brook-trout/ . There is a sample communication there for you to copy and paste in an e-mail. We had quite a few positive responses to this attempt. We were copied on a lot of letters sent to Minister Holland. If you agree with releasing the large sea run trout please pass this on to your fishing friends.
• SAS or the Smolt to Adult Supplementation Program – MSA biologists said that they have around 700,000 fry to release this June, and more than 2,000 adult salmon to release for natural spawning this fall. All of these fish were raised from completely wild smolts. CAST and MSA are still waiting for government/DFO approval for this work, plus approval to collect smolts to grow future adults. CAST/MSA officials expressed optimism that these requests would be approved, and stated that JD Irving and Cooke Aquaculture have expressed their firm commitment for continued financial support of the programs.
• CAST scientists working in the lab and in the so-called, experimental river at Mill Stream on the Northwest Miramichi have determined through genetic profiles that the salmon released by CAST and the wild salmon introduced into the control area of Mill Stream have very successfully reproduced naturally with each other, and that all sets of resulting parr – purely SAS produced, and wild/SAS crosses – behave identically and have essentially the same growth rates. These are very important findings and appear to show that supplementing the Miramichi's low returning adult numbers with adults raised from wild smolts would be a very productive strategy.
On the Cains: Atlantic Salmon and Sea Run Brook Trout on the Miramichi's Greatest Tributary is now fully available. I was able last week to fill all my initial orders, and 60 additional copies arrived at my house on Friday. The book is also available from Amazon. I hope that you will pick up a copy, regardless of where you get it. From comments I am getting people really like the mixture of historical photos and text along with current information on the river.
On my website you can find a PDF preview of the book, and you can order for immediate shipment. I am going to order more of the 11X17 copies of the John Rice illustrated map – which will be included with the book – and I will sign your copy – both things you will not get through Amazon. Here is the link: https://www.bradburnsfishing.com/product/on-the-cains/.
Thanks for reading. Brad Burns
PS I'm going to start maintaining my seasonal Salmon Report on this website with frequent water conditions and fishing reports. Scroll up to the top of the page and click Salmon Report.
The post Surprise! Miramichi Salmon Fishing Begins Early appeared first on Brad Burns Fishing.


Source: Brad Burns Fishing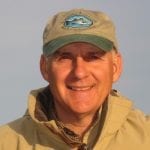 Brad Burns has avidly pursued striped bass, brook trout, Atlantic salmon and a host of other game fish for over 50 years. He is the author of the L.L. Bean Fly Fishing for Striped Bass Handbook, and with John Cole co-authored Fly Fishing for Saltwater's Finest in addition to this latest book Closing the Season. Brad has also written for many of the best known fly-fishing publications.