By Peter Gadd
August through November is the time to be looking out for southwardly migrating shorebirds.
There are many locations in Northumberland County where they may be found. We have many miles of sandy beaches bordering the saltwater of Miramichi Bay and the Northumberland Straight, the preferred feeding grounds of these birds as they make their way south, many flying many thousands of kilometers to their winter homes. Some may also be found in more inland freshwater wetlands.
Piping Plovers, Spotted Sandpipers, Willets, Wilson's Snipes, Killdeer, and American Woodcock are shorebirds that find Northumberland County NB, just right for breeding but most shorebirds travel much further into the northern most parts of Canada, many to the arctic tundra, to nest. Many follow the Atlantic coastline as they migrate. On our sandy beaches and wetlands you are very likely to see some. Migrating shorebirds frequently seen are Semipalmated Sandpipers and Semipalmated Plovers, named for the partial webbing between their toes. You will also easily find Lesser and Greater Yellowlegs, Least Sandpipers, Sanderlings and Black-bellied Plovers. On pebbly shores you might find Ruddy Turnstones looking under small rocks for their food.
If you are lucky you might find the more rare and larger Whimbrel or Long-billed Dowitchers or even the Hudsonian Godwits, named for their primary breeding area adjacent to Hudson's Bay.
There are about 48 Shorebirds considered to be "domestic" in the US and Canada.
One quite tricky aspect to bird identification is many bird species change their colours through the year, into and out of, breeding plumage. This is very true for Shorebirds.
Those listed and illustrated here are just some of the perhaps 20 or so (some very rare) Shorebird species to keep an eye out for when on the shores and in the wetlands of Northumberland County.
Peter Gadd is an avid bird watcher, photographer and nature lover, and is a member of the Miramichi Naturalists Club. www.miramichinaturalistclub.com
The article "Shore Birds" by Peter Gadd was first featured in the Harvest Issue 2020 of Giv'er Miramichi Magazine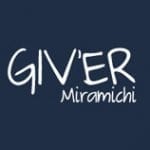 Giv'er Miramichi is about "What's up, what's new, what's happening". We are focused on building people up, supporting one another and celebrating our successes.