Miramichi Season Ending Blog October 17
On October 15th the remainder of the Miramichi River system closed to fishing for the year – the headwaters closed on September 30. There are bodies of water like the Bartibog and Tabusintac that are open until October 30th, but everything on both branches of the Miramichi system is now closed. It was for all Americans, as my fishing friend Ralph Vitale said, the season that never was. But even though we couldn't witness it in person, it was really quite an interesting year, and hopefully will end up as a good one for salmon spawning.
Fishing conditions were the worst I have seen in my time on the river. The problems came in two forms. First, was the warm water. It isn't that 2020 was a record hot summer. The average daily mean temperature for July was 20.1C/69F. This number is about a one half a degree C warmer than the average July mean for the last 90 years, and cooler than the Julys of 1970 and 1990 – along with many others in between. We did, though, get hit with a very unusual June heat wave, and the water really never got back to a good fishing temperature until well into August.
The second problem, and frankly a much larger one than the temperature was the lack of rain. We didn't have a decent rain storm from early July right through until a couple of days before the end of the season. Rain is important for a number of reasons: first it cools down the river and keeps it consistently cooler, and second it encourages new fish to enter the river and fish already in it to move from pool to pool up the river, and to generally be more active. These are the fish that will most eagerly take a fly. The lack of rain kept fishing confined to only the better low water pools, and there are just not enough of them around for everyone to fish them. Even in those pools, though, the fish get very stale, and without new recruits fishing can be poor – dour as the Scots call it. Jason Curtis and my neighbor across the river from Campbell's, Jody Newman, kept me supplied with pictures of the startling low river. If you ever wanted to pull the plug on the river to study the bottom configurations this was the year as nature did it for you. Many years since I have owned Campbell's the lowest water we would see on the Blackville gauge was in the mid .5 meter range. Up until 2018 I had only seen .4 readings once or twice before. In 2018 we saw .38, and this year we saw .33. Amazing!
Fall fishing was very frustrating to anyone who didn't have access to good low water pools, and even for them it wasn't nearly as good as it could have been. The water cooled off nicely in late August, but with the low water we were left with fish holding in the deep bottoms of the low water pools, and that was more or less it until later in September. Beginning around the third week in September new fish started slowly entering the lower reaches of the river in spite of the low water. Jason Curtis would say that it was their time and they were desperate. All of a sudden there were a lot of fish in the river. Byron Coughlin of Country Haven sent me an e-mail on October 6th, and told me that his long time guide Kenny Vickers said that: "Its been a long time since he has seen so many fish in every pool he goes to." Pictures were all over Facebook and lodge websites of smiling anglers with big Atlantic salmon, some of them very silvery in appearance.
Beginning late in the day on 10/13 it started to rain and nearly two inches fell quite uniformly over the Miramichi watershed by the next morning. I like Jason Curtis's recount of the morning of the 14th: "Brad, I had a fun morning down at Keenans. It was very cold but there were a lot of fish on the move. Probably saw 15-20, most all jumping but one or two rolling. I saw one very large bright salmon jump on the Campbell side with the rest being pretty dark. It's funny the way they were jumping, most all were like very hard and aggressive porpoises. On the move I guess. They were below the pool, in the pool and above. Very happy fish finally getting some water to move in. I did not land any, lost one salmon after a minute or so but had several takes and follows. I used a #4 chief and stayed with it." One of my angling buddies Pete Howell described Jason's comments along with some photos Jason provided of the rising, wind and rain-swept river as being "evocative," and I think he is right.
It was easy for me to see myself standing on the Keenan shore, with my hood tilted against the wind and rain, see the eyeballs of those big fall salmon as they moved aggressively upstream against the rising river, and waiting for that occasional jolt as one of them latched onto my fly.
Jason Curtis fished this Chief Needahbeh all day on 10/14. A normal fall would have had three or four raises like that one, and each would have provided some level of action. In retrospect, though, we came perilously close to ending the season on a bone dry river, but we didn't.
Yesterday – the day after the season closed – I got e-mails from Byron Coughlin and Jason Curtis. Byron said that his friends fishing for stripers well down in the estuary were still reporting silvery salmon jumping, and Jason said that he had seen a strong number of fish, with a good percentage quite silvery, leaping in front of his house in Blackville on their way upriver to spawn. This showing of strength in the second half of the season is important to me. While we don't have government trap information to analyze this fall, and even some of the traps that we did have such as the Dungarvon Barrier were really frustrated this year by terribly low water that no doubt warped their results, we do know from all possible eye-witness accounts, that the early run of salmon was the best in years. So now we know that the whole 2020 season was strong.
Today on 10/17 the Miramichi is expecting another inch plus of rain tonight and rain forecast for Tuesday 10/20. It looks like the drought is coming to an end. This is the beginning of spawning time for the salmon. Most of them will spawn over the next two weeks and essentially all will be finished within the next four. It appears they are going to have good water for this all-important annual event. Let's now hope that nature doesn't overdue a good thing.
With this season over there is nothing to do now but start to make our plans for next year. Hopefully between improved treatments, a potential vaccine, and just the disease running its course Covid will not be the problem it was in 2020. I do have a program in mind for winter blogs that may make the wait a little more fun. I have my camp logbook here at home, plus I have 7 years of past blogs. I think that I will read over these records and pick a few of the most memorable events that I have witnessed on the river during that time. I've got a lot of digital salmon fishing photos to go along with them too, so it should be fun.
What can we do today to help the Miramichi salmon? I would ask you to take the action that I did earlier today when I received this letter from the coalition of conservation groups and First Nations bands that are trying to get the government to issue the permits necessary to remove the non-native, illegally stocked smallmouth bass with rotenone. You can read all about it and then take action at this link: https://www.miramichismallmouth.com/take-action.
By the way. This e-mail was set up for Canadian residents, but I see no reason why Americans shouldn't comment. In many cases we are seasonal residents and property owners, and in many other cases we have long supported businesses including fishing lodges all along the river. Canadians who own property and pay taxes in the American south would sure expect to comment on government work in their back yards. I am confident that our comments will be welcome. None-the-less you need to use a CA zip code or your e-mail will be kicked back by the software. Feel free to use mine at Campbell's if you want. Here it is: E9B 1L2
Also, the message in the form can be customized just by typing in the box. I would not hesitate to tell them that you are an American citizen, and explain briefly your interest in the Miramichi such as fishing there for many years, being a club member, property owner etc.
Many thanks to Byron Coughlin and Jason Curtis for the bulk of the photos I have used in this year's blogs.
The post Miramichi Season Ending Blog October 17 appeared first on Brad Burns Fishing.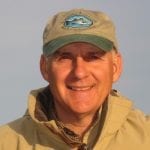 Brad Burns has avidly pursued striped bass, brook trout, Atlantic salmon and a host of other game fish for over 50 years. He is the author of the L.L. Bean Fly Fishing for Striped Bass Handbook, and with John Cole co-authored Fly Fishing for Saltwater's Finest in addition to this latest book Closing the Season. Brad has also written for many of the best known fly-fishing publications.