Robert Ross Releases Two Country Music Videos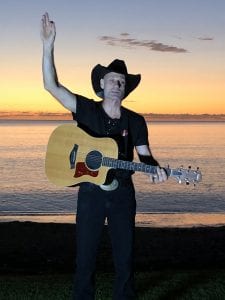 Hi, I'm from Barryville on the Miramichi. I've entertained at Ritchie Wharf and have had an article in Giver in 2018 when I released my Album "It's Never Too Late".
I live in Cairns, Australia now but my heart is always on the Miramichi. I hope to be home in Summer 2021 when travel is permitted again.
On December 8th, 2020, Ross released internationally my second song from the It's Never Too Late album with a video. Search Robert Ross Jack Daniels on YouTube.
""A New Drinking Anthem from Robert Ross

Following on from his single "I Will Rise" Robert Ross releases his next single, "Jack Daniels".

"Jack Daniel's" is the new party anthem of that big night out on the town! Filled with friends, mishaps and a surprise or two! The night is anything but mellow! Spicing things up a bit! It's fun, straight up!
The song is accompanied by a video recorded at the Cape York Hotel in Cairns and captures the essence of what a little too much imbibing can do, in a fun, tongue in cheek way. Just "clowning" around.""
The other song I released was "I Will Rise" (Released May 19, 2020) Search Robert Ross I Will Rise on YouTube.

""The song "I Will Rise" is an empowering song that touches at the heart of all of life's challenges. Domestic violence and abuse does not discriminate and everyone is susceptible, be it man, woman, young or old. It knows no boundaries when it comes to race, color, beliefs, or challenges. "I Will Rise" sends a strong message that no matter what your current situation is, or has happened in your life, you and I will rise above it all.""
Please check out the videos and Follow for all the news on:
—–contact me if you require any further information: