Giv'er Magazine – Christmas Issue 2021
The Christmas 2021 Issue of Giv'er Miramichi magazine is available to view online at www.giverontheriver.com/magazine, and on the shelves at select locations in the region. Find a list of locations that carry Giv'er magazines at this link.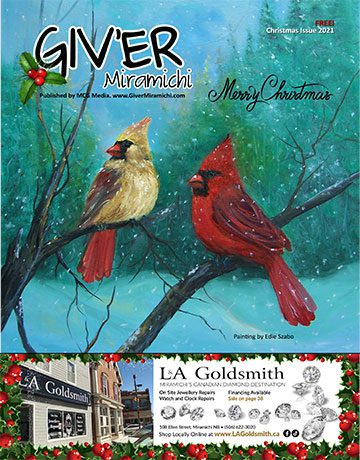 In this Issue:
• Everyone Deserves a Christmas – Opportunities to Give with the Salvation Army
• The William Murray Project, Miramichi Historical Society
• Three Dog Distilling – 1 Year Anniversary
• Snow Buntings, poem by Sonya Hinds
• Parkland: The Art of Friendship
• Holiday Recipes: Raisin Pie, Eggnog, Peanut Butter Grape Bites, Churro Popcorn.
• Miramichi SPCA – Cats available for adoption.
• Oil Painting Classes, Beginners Welcome.
• Wishbook, song lyrics by Robbie Tucker
• How I Became Addicted to Stained Glass, Paulette Arsenault
• Community events, puzzles, photography, colouring page and so much more!
The cover photo is an oil painting, Cardinals, by Edie Szabo.
The magazine is also available to read online at: www.giverontheriver.com/magazine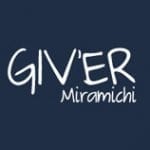 Giv'er Miramichi is about "What's up, what's new, what's happening". We are focused on building people up, supporting one another and celebrating our successes.