Remembrance Dinner Theatre & Song Is Back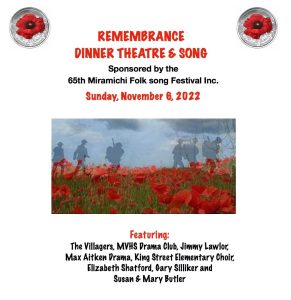 by Johannes Bosma
After a two-year hiatus, the Remembrance Dinner Theatre & Song is back at the Kin Centre on Sunday, November 6 from 5pm to 8:30pm, sponsored by the 66th Miramichi Folk Song Festival and co-hosted by Susan Butler and John Bosma. With the clock turned back that weekend, we'll have an extra hour of daylight to get there and home again.
The evening begins with a delicious Susan Butler Dinner of stuffed chicken breast, mashed potatoes, vegetables, roll, cranberries and completed with tea/coffee and white or chocolate cake with boiled icing. The calm and beautiful piano stylings of David Bunnell will complement the dinner.
It continues with the entertainment portion at 6:30pm. The first act features striking harmony of The Villagers, Into the Wide Blue Yonder (a short play about the Air Force) by the MVHS Drama Club, the smooth voice of Jimmy Lawlor & friends and a dramatic presentation of In Flanders Fields by the Max Aitken Drama Club. Act One finishes with a beautifully, haunting song entitled Remembrance Day Child, presented by the King Street Elementary choir.
During the intermission there will be a half & half draw and 3 for $5 tickets sold on another spectacular painting, donated by Edie Szabo.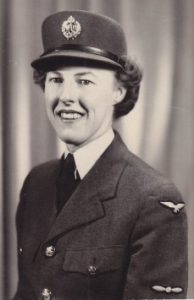 Act Two will feature the reading of An answer to 'In Flanders Fields' by Mac Heckbert whose profile will be presented. It continues with the beautiful voice of Elizabeth Shatford, a dramatic presentation of Anchors Away (a tribute to Canadian Navy) also by the MVHS Drama Club, the talented Gary Silliker and the reading of a scholarship winning essay, "Why Should We Remember," written by 2019 MVHS Grad, Ellie Newman, and read by an MVHS drama student.
The evening concludes with the Butler Sisters, Mary & Susan, and their beautiful version of The White Cliffs of Dover and more, followed by two additional war songs by all the performers.
Through the dramatizations, the program will honour Huntley Fanning, Jimmie Cassidy and Ray "Pony Boy" Moar (Navy); Ella Curtis, William Cadger, Arnold "Russ" Russell and Bill Weeks (Air Force); along with Mac Heckbert and Bob Currie (Army).
Tickets are $40 each, by reservation only. Contact Susan Butler at 622-1780 or . Any dietary concerns will and can be accommodated.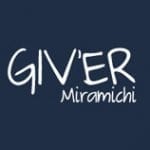 Giv'er Miramichi is about "What's up, what's new, what's happening". We are focused on building people up, supporting one another and celebrating our successes.