I'm still here. The parking lot was looking quite lonely looking for awhile,


The Captain finally arrived to help and hooked up booster cables to my battery…it soon became evident that there was another problem… a slight shortage of gas.
So we went to the Irving, filled a jug, brought it back…and it still doesn't work. It's just too freakin cold!
Anyway…I'm off to try and start it one last time. I'm proud to say I didn't whine at all during the whole ordeal, *Terry said so, and the best part is I might get to drive the Mighty Miramichi van home! Yay!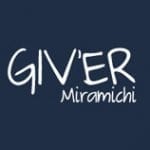 Giv'er Miramichi is about "What's up, what's new, what's happening". We are focused on building people up, supporting one another and celebrating our successes.