Third session of Stepping Out starting soon
The Mango program begins its third session of its popular pedometer program the week of May 7.
Stepping Out with Mango is a 12-week program which will be offered to all members of the public and is accessible in the communities of Newcastle, Chatham, Douglastown, Rogersville, Néguac, and Baie Ste. Anne. This program is designed to help people increase their physical activity.
Stepping Out with Mango first started in September 2006 with a flurry of people filling community halls and workplace lunch rooms to join the program to help increase their physical activity. In January 2007, another session seen hundreds of people clip on the tiny instruments and getting physically active despite cold winter temperatures.
Now, the week of May 7, a new group of Stepping Out followers will hit the streets and the fitness facilities in an effort to increase their own physical activity.
"Since September, we've had over 800 people join our Stepping Out with Mango initiative and we couldn't be happier," says Mango Coordinator Jacqueline Noseworthy. "We are extremely impressed with the number of people that are making the commitment to join a program designed to increase their physical activity and help keep them motivated. The response has been overwhelming."
As a participant in the program, each person receives a pedometer- a tiny instrument that counts every step the person takes. At the end of the day, participants record the number of steps they take. Each week they set new goals for themselves and gradually try to increase their daily steps over the 12-week period.
In addition to wearing the pedometer, participants also attend five 30-minute group support meetings facilitated by a trained program leader. In these meetings, the group is encouraged to determine weekly goals and progress is shared. Participants receive tips on how to be more active and ways to increase their steps. There is also nutrition sessions offered in the communities.
"Stepping Out with Mango is a program that can be easily used by an individual, family or workplace."
To register for the session nearest you, to offer this program in your workplace, or for more information, please contact the Mango office at 627-7564.
Mango is a population-health based community program that promotes healthy eating and active living throughout the region. Its' goal is to decrease overweight and obesity by 10% by the year 2008 through initiatives such as this one.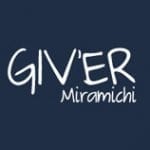 Giv'er Miramichi is about "What's up, what's new, what's happening". We are focused on building people up, supporting one another and celebrating our successes.