New Mango Champion an inspiration to others
Mango's new Champion of the Community is seen as inspiration to her peers.
Veronica Connolly is a TOPS (take off pounds sensibly) leader and she was recently awarded the honour of First Place Winner in this area. The Nelson resident was nominated by her peers because of her continued commitment to her own health.
"We heard Veronica's story and wanted to recognize her. She has had some tragic events in her life, but has used them to help her succeed in her weight loss. We are happy to share her story," says Jacqueline Noseworthy, Mango coordinator and dietician.
Mango's initiative, Mango Champion of the Community sees Mango recognizing and profiling members of the region who are living as Mango encourages the community to live: eating well and being active.
Veronica's story
Veronica is a TOPS leader in Newcastle. For many years, she taught clogging to the public and was always physically active. She ate well and followed the Canada's Food Guide. After two deaths in her family, she found that she was eating more and gaining weight. She stopped teaching clogging and began quilting and her physical activity level decreased dramatically.
"After my son died, I weighed 233 pounds in 1996." Then, after hearing from her family doctor that she had a problem with her heart, she thought to herself, "I count too."
She made a decision to improve her health. She joined a local gym and returned to the TOPS plan which follows the Canada's Food Guide to Healthy Eating. She incorporated foods from all food groups and increased her consumption of fruits and vegetables.
"I have more energy now and I'm feeling better. I've lost 65 pounds since February 2006."
She has given motivation to her family and has inspired her TOPS group members thus being awarded TOPS club's first place winner for her weight loss. When accepting her award on April 21, she delivered this poem:
Self Love Moves Pounds
One day I got a thinking
About the shape I'm in
And realized I needed help
If I were to be thin
It was then I remembered
My TOPs pals of ore
And my mind was made up
To eat junk food no more
Mango's Champion of the Community is brought to you by McDonald's restaurants: working with Mango to recognize healthy champions in our community.
Mango is a population-health based community program that promotes healthy eating and active living throughout the region. Its' goal is to decrease overweight and obesity by 10% by the year 2008 through initiatives such as this one.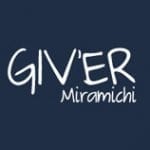 Giv'er Miramichi is about "What's up, what's new, what's happening". We are focused on building people up, supporting one another and celebrating our successes.