Mango to offer final session September 8
Our community's Mango program is offering the final session of its popular pedometer program, Stepping Out with Mango, starting the week of September 8. To register yourself or your workplace, call 627-7564. Interested participants can register at a community location or sign up with their workplace. Mango is encouraging anyone who ever participated in the program since 2006 to return with their pedometer and take part in this last session.
In existence for two years, Stepping Out with Mango is a 12-week program which has been offered to members of the public and workplaces. The program is designed to help people increase their daily physical activity. Each participant gets a pedometer- a tiny instrument that counts every step the person takes. At the end of the day, participants will record the number of steps they took. Each week they will be able to set new goals for themselves and gradually try to increase their daily steps over the 12-week period.
In addition to wearing the pedometer, participants also attend four 30-minute group support meetings facilitated by a trained program leader. In these meetings, the group will be encouraged to determine weekly goals and progress will be shared. Participants will receive tips on how to be more active and ways to increase their steps. Participants also have the benefit of a nutritional session with a registered dietitian.
When Mango first launched Stepping Out with Mango in September 2008, they put in place a two-year plan to offer the program seven times throughout that time frame in the communities around our region and in workplaces. Mango's goal was to gather at least 1,200 participants throughout the communities and to offer sessions in 10 workplaces.
Those numbers were surpassed as the Stepping Out with Mango program has seen 1,683 people to date put on a pedometer and get stepping with the program. Also, 59 workplaces have taken advantage of the program and offered it as a workplace wellness tool in their place of employment.
Mango purchased the Stepping Out program from Vitality Moncton. The City of Moncton offers this program to its citizens as well. Mango was looking for a walking program to offer the residents of this region. This program is beneficial to help the public to begin a walking program, maintain what they are doing, or increase their physical activity.
Mango is committed to fighting overweight and obesity in the Miramichi region by offering initiatives dedicated to increasing physical activity levels and encouraging healthy eating to the residents of the region.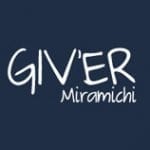 Giv'er Miramichi is about "What's up, what's new, what's happening". We are focused on building people up, supporting one another and celebrating our successes.