Network for Young Professionals in Miramichi
The CBDC and Enterprise Miramichi have joined forces in order to revive a network destined for young professionals and entrepreneurs. The Miramichi Young Business Professionals & Involved Entrepreneurs (MYPIE) is being created to reach young professionals and entrepreneurs aged 18-35 years old who are living and working in Miramichi.
This initiative follows a series of recommendations made by the Miramichi Community Action Committee, who after speaking to external experts and consulting with key stakeholders in the area, mentioned the need for Miramichi to have its own network of young professionals. This kind of network is not necessarily new to the region as some people had tried to initiate the project on a volunteer basis on a few occasions over the years. By taking the project under the CBDC and Enterprise Miramichi's umbrella and having employees working on the project, both economic development agencies believe we should see a revitalized network of young professionals gathering in the upcoming year.
"This network will be great for our young people as they need to have the opportunity to voice their concerns, share their ideas, and help improve the overall economy of the region. It really is a win-win for everyone in the community to have our young people involved," states Brian Donovan, Executive Director for Enterprise Miramichi.
Greg McNulty, General Manager for the CBDC adds, "We have seen an emergence of young entrepreneurs in the area and we need that young entrepreneurial spirit to retain our young professionals."
With monthly activities planned from September to June, MYPIE's initiators, Terry Stewart (Youth Development Officer for the CBDC) and Nadine Dunn (Job Liaison Officer for Enterprise Miramichi) hope that it will make things easier for young professionals and entrepreneurs to participate. There will be at least 10 events held on a Wednesday each month ranging from networking sessions to luncheons or breakfast meetings and tours of local businesses. Beginning on September 24th 2008 with a Wine & Cheese reception in the Sevogle Room at the Rodd Miramichi River Hotel from 5-7pm. Young professionals will speak about the benefits of living and working in Miramichi.
The focus of MYPIE is primarily to give young professionals and entrepreneurs an opportunity to gather on a regular basis to enable them to either network with other people, exchange information, and celebrate their efforts. To that effect, a lot of work is being put on success stories, which is why the kick-off activity on September 24th will showcase young people speaking up about the benefits of living and working in Miramichi.
If you want a slice of the pie and to be involved in community affairs, participate in MYPIE!
For more information contact Nadine Dunn at Enterprise Miramichi 506.625.1589, email , or Terry Stewart at CBDC 506.778.2121, email .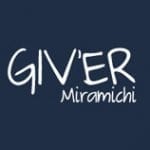 Giv'er Miramichi is about "What's up, what's new, what's happening". We are focused on building people up, supporting one another and celebrating our successes.