Affordable housing units officially open in Miramichi
Twelve affordable housing units for families and people with disabilities have officially opened in Miramichi.
"Investing in affordable housing is fundamental to rebuilding New Brunswick together," said Social Development Minister Madeleine Dubé. "I am pleased to celebrate this project, which shows our government's commitment to enhancing the quality of life of New Brunswickers and their families while living within our means."
The 24-unit housing development, built by Judy Phipps Properties Inc. at 80 Hutchison Dr., had a construction cost of more than $2.5 million. The company received $480,000 in federal funding to offset construction costs, and more than $1.1 million in rent supplements from the provincial government for 12 units.
"Our government is proud to be investing in these 24 new units for families and persons with disabilities," said Miramichi MP Tilly O'Neill Gordon. "All Canadians deserve access to safe, affordable housing, and this new project will make that vision a reality for many residents of Miramichi."
O'Neill Gordon attended in place of Diane Finley, minister of human resources and skills development and minister responsible for the Canada Mortgage and Housing Corp.
Funding for the project came through the $47-million Investment in Affordable Housing 2011-2014 Agreement between the federal and provincial governments. Under the agreement, New Brunswick will use the funds for new construction projects and rental subsidies.
The affordable housing units were built to high energy-efficiency standards and involved consultation with Efficiency NB. Builders of multi-unit residential buildings can receive technical support from Efficiency NB on how to meet energy efficiency targets.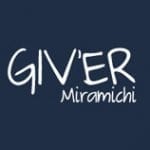 Giv'er Miramichi is about "What's up, what's new, what's happening". We are focused on building people up, supporting one another and celebrating our successes.