Voyageur Canoe to Paddle Alongside Tall Ships
As a central hub of celebration during the New Brunswick Festival of Tall Ships on the Miramichi, the Beaubears Island Interpretive Centre will be bringing history to life on the Island during daily tours of the National Historic Site. Even so, the Tall ships won't be the only vessel on the water this weekend. The Voyageur Canoe Sipu, is also taking to the pristine azure waters of the Miramichi, for a special limited engagement that will see her voyage alongside the visiting ships at daybreak.
Centuries ago, Mi'kmaq hunters paddled their canoes to Quoomeneegook, heavy laden with their catch and anxious to divide it with their brethren. In time, their French counterparts would utilize similar vessels in their search for the valuable furs of the region. Now, the Beaubears Island Interpretive Centre will look to recapture these heady days with their 26 foot, ten-passenger, Voyageur Canoe.
Saturday, June 1st, and Sunday, June 2nd, the canoe will embark from Ritchie's Wharf at 7 am and convey her passengers along the banks of the Miramichi River, affording picturesque views of the remarkable landscape and the stunning architecture of riverfront properties.
Then will come the truest treasure of the voyage, when Sipu greets her venerable counterparts and allows travellers to see the Tall Ships close–up on the water, their mammoth presence to quiet the proudest heart; a truly awe-inspiring experience.
Prices are set at $15/person, or $10 with bracelet, but spaces are limited and filling fast. Do not delay, and ensure your place alongside your fellow Miramichiers and alongside the Tall Ships.
The Beaubears Island Shipbuilding National Historic Site of Canada, J. Leonard O'Brien Memorial, is the only known, undisturbed archaeological site associated with the national significance of the 19th century wooden shipbuilding industry in New Brunswick. For this reason alone, the Island uniquely compliments the Tall Ships Festival in a way that no other site can. For more information, call (506)622-8526 or visit beaubearsisland.ca.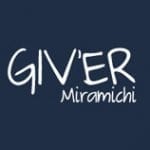 Giv'er Miramichi is about "What's up, what's new, what's happening". We are focused on building people up, supporting one another and celebrating our successes.