Award Winning Guitarist Coming to Renous
by Bernie Colepaugh
The Miramichi Folklore Park in Renous saw double duty this past weekend.
The Friday Night Racket featured the smooth country and rockabilly sounds of the Morrisons. The boys had lots of energy and were much appreciated by the good-sized crowd despite the fact that there were so many events happening on the river.
Blaine, Eddy and Ricky were seen the next day filling grocery carts with dry goods for the Miramichi Food Bank which they purchased with the money they earned for playing on Friday night. Way to go, guys!
Saturday at the Park saw Zack's Band playing for our first Seniors Dance.
The audience really liked the music and the dance floor was crowded most of the time. There is a lot of experience in this group, which is very nicely complemented by 15-year-old Zack's lead guitar playing.
We will be holding these dances on the first Saturday of the month from now on.
Very Special Event
On June 22nd we will be featuring John Campbelljohn, ECMA award-winning blues guitarist from Cape Breton, NS.
There will be a meet and greet starting at 4 pm followed by a slide guitar workshop, a meal, a concert by Miramichi's own Terry Whalen, then John will play his amazing style of blues for us.
Tickets for the whole package are $30, or $10 for the concerts, and are available by calling (506)627-0987 or (506)625-3544. There is limited seating for this event.
For more information about John Campbelljohn visit his website.
This week's Friday Night Racket will feature the music of Greg Donovan and Friends. Come listen to a variety of music with Greg, Phyllis Drier, Highwater and others on Friday June 7th at Miramichi Folklore Park, 46 Memory Lane, in Renous.
The music starts at 8 pm, admission is just $5.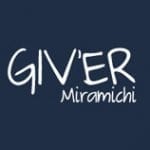 Giv'er Miramichi is about "What's up, what's new, what's happening". We are focused on building people up, supporting one another and celebrating our successes.