End of School Bash Big Success
Contributed by Alan Breck
The old estate on MacDonald's Farm was filled with life this past Saturday during the End of School Bash. More that 270 patrons joined Muriel MacCullum, her staff and a bevy of Highland Society volunteers in a celebration of summer in this pastoral environment.
Boyd Carnahan provided the pony rides, while Charlie Hachey played a selection of country-western favourites, both old and new.
Farm staff Marie-Line Forbes of Neguac baked a batch of her acclaimed molasses cookies, and Councillor Shelly Williams and her husband, Steven Brown, served up barbequed selections to costumers young and old.
Many were the comments made about the quality of the presentation and the ability of the site and staff to bring the 1800's farm-life into the centre of the mind's eye.
At least one father was heard to ask of his children, "Do you think you could seriously get along in those times?"
Parents also noted how affordable the $3 regular admission was, claiming they would have expected to pay more for the hours of enjoyment they partook in.
The animals of the farm were also in high spirits, save for the cows who hid themselves from the crowds. The arrival of four more kittens, ready for adoption, was also an event in itself, and led to countless photos.
Veteran employee Jillian Hayward remarked that the excited cheers of the children were always her favourite part of days like this one.
The best part of Saturday's event was that it was only the beginning. Events are planned throughout the summer, so stay tuned for more updates, and follow the farm on Facebook.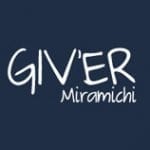 Giv'er Miramichi is about "What's up, what's new, what's happening". We are focused on building people up, supporting one another and celebrating our successes.