Robert Blacquier Memorial Tournament Results
by Shawn McCarthy
Miramichi softball fans were sure to have walked away happy this past weekend after a very eventful Robert Blacquier Memorial tournament.
The tenth instalment of this annual spectacle was a great success, with plenty of thrills, upsets and some of the finest exploits one could hope to see in this province.
One of the biggest stories of the weekend was the New Brunswick Under-21 Select team, getting ready for the 2013 U21 Men's International Softball Championship in Saskatoon, July 9 to 14.
The young men impressed the crowds with their skill, finesse and endurance, making it all the way to the tournament final against the undefeated Richibucto Jays.
The Jays had a 4-1 lead and two out in the final inning, but the boys rallied around, scoring two and placing the tying run on third base. All of this while facing one of the best Senior Men's pitchers in the province, Trevor Ryan.
The Jays, former tournament champs, would not be denied however and held on to win the game, and the tournament, by a score of 4-3. Displaying a great deal of sportsmanship, team captain Jim Arsenault complimented his adversaries and wished them lots of luck in their trip to Saskatchewan.
In addition to tournament play, an open-invitation skills competition took place on Saturday night. The Nelson Days Inn Red Sox took the prize for the throwing relay, as Billy Ahern, Jason Lynch, John Brown and Riley Harris completed the cycle, forwards and back, in less than 12.5 seconds.
It looked as if the Red Sox would win the base-running relay too, but the NB Select Team of Brandon Nason, Matt Whipple, Jason King and David Brewer edged them by less than a second posting a 44.87 second completion time.
Next was the home run derby that was won by the Eel Ground Eagles' sluggers Harvey Simon and Kortney McAllister, who combined for 11 homers, defeating the Miramichi 'Jungle Jims' Brewers, who put nine over the fence.
All in all, it was an enjoyable weekend, and a fitting tribute to Robert Blacquier, one of Nelson Softball's biggest fans and strongest supporters.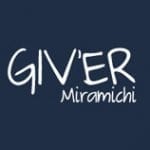 Giv'er Miramichi is about "What's up, what's new, what's happening". We are focused on building people up, supporting one another and celebrating our successes.