"Living Passion" Free Seminar in Bathurst

A free-to-attend, all-ages motivational seminar presented by C.S.P. — a professional, industry endorsed recording artist, event organizer, and music instructor — and Scott Doucet — a professional motivational speaker, consultant, and founder of Edge Motivation – will be held on Tuesday, June 25th, 6:30pm, at The Atlantic Host, in Bathurst, NB.
The event will see Christopher Stephen Pitre (C.S.P.) and Scott Doucet speaking about passion, how to incorporate passion into all avenues of life, thinking-outside-the-box when approaching career choices, and the power of networking, in any field. A two-fold presentation, this seminar is designed to both help people understand passion and its application in general life, as well as how to creatively achieve their career goals via unconventional thinking and intensive networking.
The event is free-to-attend, and intended for all ages, but with a particular emphasis on those wishing to better understand how to make careers out of their passions via the presented strategies, especially pre-collegiate students and those looking to "break from the rut." To that end, the event is slated for Tuesday, June 25th, both to accommodate recent grads and to provide a free service to the community during a penny-pinching time.
The seminar will follow a format of two speaking presentations by Scott Doucet and C.S.P., respectively, followed by an on-stage Q&A, prize give-aways, and a free "meet 'n greet mingler/ luncheon" sponsored by Xstrata and Synergies.
C.S.P. will be giving away a complete guitar package (guitar/amplifier/strings/etc.), as well as several free guitar lesson vouchers—both to the package recipients and audience members–and Scott will be giving away free audio-book content, relative to his forthcoming release, as well as t-shirts and other merchandise. Additional prizes and mementos will be handed out, and refreshments will be catered, also free-of-charge.
C.S.P. (26) is an officially endorsed artist of Peavey Electronics, D'Addario, Planet Waves, and Harris Musical Products, the founder of the hugely successful C.S.P. International Rock Guitar Competition, and the Guitars For Dreams; Guitars For Life charity foundation, has appeared on several studio albums, and is a music instructor and clinician of over 10 years, in the New Brunswick region. He will be sharing his unique stories on how he built his self-made career from the ground-up out of Bathurst, giving insight on the professional music industry, event managing and networking, and meeting the fierce demands of a saturated market.
Scott Doucet (25) is a professional motivational speaker, having spoken at schools and venues across New Brunswick, a private motivational consultant for companies and individuals alike, the founder of Edge Motivation, and the author of the upcoming audio-book: "Edge Passion Audio." He will be sharing his stories on how he went from being homeless at 17 years old to successfully graduating high school with honours, founding Edge Motivation, creating a life centered around passion, and helping to incorporate passion in all areas of people's lives, whether personal or professional.
The Atlantic Host Hotel is located at 1450 Vanier Boulevard in Bathurst.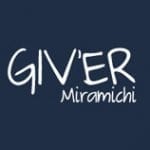 Giv'er Miramichi is about "What's up, what's new, what's happening". We are focused on building people up, supporting one another and celebrating our successes.