Assembly of First Nations (AFN) Regional Chief Roger Augustine will be hosting the second annual Fishermen Pow Wow on June 30 – July 1, 2013 at Waterford Green Park in Chatham, Miramichi.
The Fishermen Pow Wow: Spirit of Peace and Friendship Gathering will provide an opportunity for First Nations and other cultures prominent in Atlantic Canada to come together to celebrate and renew alliances that reflect the significance of historical relationships.
During the 1700s, the Crown entered into "Peace and Friendship treaties" with Mi'kmaq and Mailseet people. These living treaties and their legacy are an important part of history and help shape Canada's relationship with First Nations. The Fishermen Pow Wow will not only be an opportunity to celebrate and share First Nations unique culture but to also renew important alliances.
The Fishermen Pow Wow will showcase the dances, songs, and language of First Nations, Acadian, Scottish and Irish cultures. An added feature of the event will be the formal recognition of fishermen and their devotion to fostering good relationships between fishermen and the community.
TENTATIVE SCHEDULE
Sunday, June 30,2013
1-3 pm Cultural Village, Four Teepees will hold cultural Sessions
2:30-4:30 pm information Session on the chronological events of FN History From Past to Present
5 pm boat tour for Dignitaries and Sponsors, Traditional Supper Honouring Lieutenant Governor and National Chief (by invitation)
8-9:30 pm Entertainment – Waterford Park
Monday, July 1, 2013
6 am Sunrise Ceremony
9 am Parade of boats
9:30 am Fishermen Round Up
10 am Grand Entry – Opening Speeches
10:30-11 am Cultural entertainment
11 am Special Recognition and distinction Speeches
11:15 am – noon Cultural entertainment
Noon Guest Speaker
1 pm Exchange of Flags
1:20-4 pm Cultural entertainment
2:15 pm Closing Remarks
2:30 pm Feast
For more information visit www.xchief.net.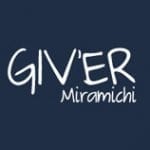 Giv'er Miramichi is about "What's up, what's new, what's happening". We are focused on building people up, supporting one another and celebrating our successes.