Robert Blacquier Memorial Tournament
by Shawn McCarthy
Leading into this weekend's Robert Blacquier Memorial Tournament, the players of the Miramichi Men's Fastpitch League are pulling out all the stops, looking to gather momentum going into this all-important competition.
Action began Monday night when the Nelson 'Days Inn' Red Sox played a double header. Their first challengers were the Douglasfield Dodgers, who held their own, but came up short in a 9-8 finish. The Red Sox bats were smoking on this night as Billy Ahern and Riley Harris both racked up home runs and combined for seven RBI. The Dodgers were aided by Jessie Burke, who managed a triple, a double, and a single. Winning pitcher was Jason Lynch, with Dan Goodin getting the save for his club. Ryan Doyle swallowed the loss, but acquitted himself rather well with three strikeouts.
Buoyed by this hard-fought victory, the Sox went right into action against the 'Jungle Jim' Brewers. The Brewers were led by Ashley Cosgrove on the mound, who notched another five strikeouts on the night, and were assisted by the offensive offerings of Ben O'Toole and Jake Fitzpatrick. Sadly for them, the Sox defence kept them off the scoreboard, with Dan Goodin throwing eight strikeouts alone. The Nelson offensive machine, this time headed Johnny Browne with two doubles and four RBI, scored seven, allowing the Sox to go two-for-two Monday night with a convincing 7-0 victory.
While Tuesday's Rangers/Eagles clash had to be postponed until July 11, actioned resumed Wednesday night as the 'Jungle Jim' Brewers and Douglasfield Dodgers did battle on the diamond. Ryan Doyle had a complete game earning five strikeouts, to match the combined total of Brewers' pitcher Ashley Cosgrove and reliever Blake Lynch. The Dodgers took the 7-4 win, boosted by John Cortes' 2 doubles, Jake Nicholson's triple, and Jeremy MacDonald's two singles. Brewers' slugger Jake O'Neill answered back with a double and a single, but it was not to be.
Here's how things shake down in the League, going into the tournament on Friday:
Miramichi Towne Ford Rangers
5 Wins, 0 Losses, 10 Points
Nelson Days Inn Red Sox
4 Wins, 2 Losses, 8 Points
Miramichi Jungle Jim Brewers
2 Wins, 5 Losses, 4 Points
Eel Ground Eagles
1 Wins, 3 Losses, 2 Points
Douglasfield Dodgers
2 Wins, 4 Losses, 2 Points
Pitching Wins
Dan Goodin (Red Sox) – 3
Jimmy Keenan (Rangers) – 3
Ashley Cosgrove (Brewers) – 2
Strikeouts
Dan Goodin (Red Sox) – 38
Jimmy Keenan (Rangers) – 24
Ashley Cosgrove (Brewers) – 21
Home Run Leaders
Greg Sullivan (Rangers) – 4
Keith Sullivan (Rangers) – 2
Justin Fogarty (Rangers) – 2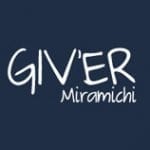 Giv'er Miramichi is about "What's up, what's new, what's happening". We are focused on building people up, supporting one another and celebrating our successes.