Eel Ground Eagles Top Tourney
Eel Ground Eagles Top Tourney
by Shawn McCarthy
The exciting conclusion to the Miramichi Men's Fastpitch League played out as part of the Remembering Nelson Fair, Sunday afternoon. The finals saw the unexpected pairing of the Miramichi 'Jungle Jim' Brewers, who defeated the Douglasfield Dodgers in the semi-finals, taking on the Eel Ground Eagles, who were undefeated in tournament play.
Avid fans of the Men's League are likely to wonder how this came to be. In truth, it was the product of a perfect storm of circumstance. Injuries, and the wedding of league MVP Dan Goodin, sealed the fate of the Miramichi 'Towne Ford' Rangers and Nelson 'Days Inn' Red Sox, who were both shut out in round robin play. On the opposite side of the coin, the Brewers were lucky enough to have several players return from jobs in Western Canada, while the Eagles rode the strong pitching of Trevor Ryan in the all-important year-end competition.
The final game began with Eel Ground taking a runaway lead, scoring three runs in the opening inning. Though the Brewers' defence managed to clamp down from there on, holding the Eagles to their original three runs, the young club faced a challenge in the form of Eagles' pitcher, Trevor Ryan. A third inning RBI double from Blake Lynch brought Tom McCarthy across the plate, but it proved to be the only run the Brewers could manage, as the Eel Ground Eagles took the League championship, for the second time in their history, by a score of 3-1.
Eel Ground player/coach Kelvin Simonson said that he was pleased with his team's performance and to add the 2013 League championship to the one the Eagles garnered in 2008. He hopes that this is only the beginning of a championship dynasty in Eel Ground and he assured this reporter that the Eagles would be flying high next season. Ever gracious in victory, he extended praise to the Brewers for their efforts, as well as to all the opposition his squad faced this year.
So ends another successful softball season on the Miramichi. The league organizers and players would like to once again extend their thanks to the sponsors who make this summer pastime viable, and to the fans who came out to cheer on their favourite squad. See you in 2014.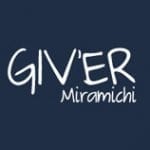 Giv'er Miramichi is about "What's up, what's new, what's happening". We are focused on building people up, supporting one another and celebrating our successes.