Miramichi Folklore Park Hosts First Play
The Miramichi Folklore Park in Renous is pleased to announce they will present "Still Whoopin' and Drivin'er, Miramichi Folksong Festival 2035" as the Miramichi Heritage Players first play in their new home at the Park.
This play was produced for the first time at the Miramichi Folksong Festival this summer and was very well received by the audience. Tickets to the Dessert Theatre on Saturday, September 7th are available at Renous Convenience, Rightway Convenience in Renous, or by calling Bernie Colepaugh at (506) 625-3544.
Miramichi Folklore Park Events:
Last weekend saw double duty at the Miramichi Folklore Park in Renous. Friday night saw the return of Good Times with Eric Hendriks, Amy Jardine and Todd Jardine.
Saturday night featured Jens Jeppesen and Joel Leblanc.
Joel, on upright bass provided perfect accompaniment to Jens' guitar work, some of the best and definitely the fastest picking ever heard at the Park.
These easygoing and personable gentlemen were very much appreciated by the audience who applauded after every great tune.
Jens played two guitars during the evening, both of which were made by Ian Craig. The Miramichi Folklore Park is very pleased to announce that Jens and Joel will be returning for a repeat performance at the park in February.
About the Miramichi Folklore Park:
The Miramichi Folklore Park started out as just an idea in the head of one of the founders of the Heritage Players, and seven years later it is finally a reality!
Located in Renous, NB, near the crossing of Highways 8 and 108, the building that was formerly Carter's Country Convenience Store will soon house a main stage and already has seating for over 65 people.
Also to come on the property will be overnight camping, a small museum with local artefacts, and along the Highway 8 side of the building, double life-size statues of Miramichi folk poets.
For more information visit the Miramichi Folklore Park website or like them on Facebook.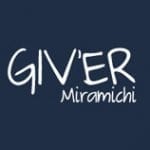 Giv'er Miramichi is about "What's up, what's new, what's happening". We are focused on building people up, supporting one another and celebrating our successes.