Impromptu Play in Men's Fastpitch This Week
by Shawn McCarthy
This week's softball action from the Miramichi Men's Fastpitch League started with a make-up game between the Nelson 'Days Inn' Red Sox and the Douglasfield Dodgers.
Though league play was not to begin this week until Wednesday, due to last weekend's scheduled Intermediate Men's tournament in Fredericton, its cancellation due to rain allowed for some impromptu play.
In a close game, the Sox downed the Dodgers 10-8. As always, Dan Goodin led his squad from the mound, with eight strikeouts, while Jake Nicholson helped offensively with a triple, double, and single. Devon McKenzie took the loss, striking out four and also offered with a triple and two singles at the plate. The win brings the Nelson team another step closer in their chase for the top spot in League standings.
The opportunity to realize that long sought after goal was presented to the Red Sox on Wednesday night, when they went head-to-head with the leading Miramichi 'Towne Ford' Rangers. Yet, the Rangers came to the field ready, setting the tone of things to come when Dale Gorman hit a solo shot during the first at bat of the game.
With Jimmy Keenan on the mound, throwing eight strikeouts on the night, the Red Sox were held off the scoreboard, though Jason Lynch managed a triple and single. Pitcher Dan Goodin, in spite of five strikeouts thrown, was forced to take the bitter pill of defeat and the Rangers strode over the 'Days Inn' club by a score of 11-0.
Elsewhere in Nelson softball action, the two Nelson ladies clubs did battle on the diamond on Wednesday evening. The Lady Vics and the Missfits played to a 16-14 final; the latter taking home the victor's laurels.
The game was a lively one, highlighted by a rundown between second and third, which witnessed a masterful display by Missfits base-runner Crystal Martin. Both teams will participate in the Ladies Orthodox Provincial Championships August 9-11, with the Lady Vics playing host to at least a half dozen teams from across the province.
Vics player/ coach Darlene Sobey is excited at the prospect of welcoming the competition and hopes the event will promote ladies softball on the Miramichi.
Here's how things shake down in the Men's League, after eleven weeks of play:
Miramichi Towne Ford Rangers
11 Wins, 2 Losses, 22 Points
Nelson Days Inn Red Sox
10 Wins, 5 Losses, 20 Points
Douglasfield Dodgers
4 Wins, 7 Losses, 8 Points
Eel Ground Eagles
3 Wins, 6 Losses, 6 Points
Miramichi Jungle Jim Brewers
2 Wins, 10 Losses, 4 Points
Pitching Wins
Dan Goodin (Red Sox) – 8
Jimmy Keenan (Rangers) – 7
Strikeouts
Dan Goodin (Red Sox) – 84
Jimmy Keenan (Rangers) – 71
Ashley Cosgrove (Brewers) – 37
Home Run Leaders
Greg Sullivan (Rangers) – 5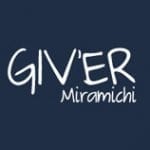 Giv'er Miramichi is about "What's up, what's new, what's happening". We are focused on building people up, supporting one another and celebrating our successes.