Ask the Experts: Why Book Through a Travel Professional?
by Marlin Travel
Google "Mexico vacation" and you'll come up with 202 million responses. Booking on the internet has become popular, but with the quantity of information available, how do you sort through legitimate product and online posers? Smart travellers are returning to brick and mortar stores, recognizing the value of booking with a travel agent versus booking online themselves. Here are 10 reasons to book your next trip through Marlin Travel/ Club Voyage:
1. Ensure you're protected for emergencies. Don't be without insurance because nobody told you you needed it.
2. Upgrade to Transat Club Class or get that pristine ocean view room you've always dreamed about—FREE! Ask us how to use your Air Mile rewards for upgrades.
3. Marlin Travel advisers have been to Asia, Europe, Africa, Central America and the Caribbean. We can clear up any confusion on whether shark diving in South Africa is worth the money or if you absolutely must stay in a cave hotel in Turkey.
4. Know what you're buying. We can tell you if "standard room" is code for "garbage view" or if your hotel is under construction.
5. Be rewarded for loyalty. Refer a friend and receive 30 Air Mile reward miles per booking.
6. We do the grunt work. If your flight is cancelled and you're standing in line or waiting on the phone to get the next flight, you'll wish you had a travel agent.
7. Get it all in one place. When you book with Marlin, you get the knowledge of a travel professional, travel arrangements, foreign currency and insurance.
8. Get your vacation just the way you want. If you want to take a road less travelled, our experts can provide a customized one of a kind adventure tailored to YOU.
9. Save your time for more important things. We will save you hours of information overload, be a safety net if something goes wrong, and make sure all the little details are taken care of.
10. Did you really mean to spend your honeymoon at that resort whose one tiny pool was filled all day with 12 screaming children?
For more information visit www.marlintravel.ca.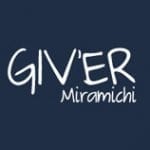 Giv'er Miramichi is about "What's up, what's new, what's happening". We are focused on building people up, supporting one another and celebrating our successes.