Mac's Seafood Market Thanks You
If you haven't been to Mac's Seafood Market yet you've been missing out not just on the remarkable quality seafood at very affordable prices, but also good old fashioned personal service from people who really care.
As soon as you enter Mac's you feel special, completely welcome, like you're visiting with a good friend—a friend who just happens to know everything you've ever wanted to know about seafood! When you leave you don't leave with just amazing quality seafood, you leave with the knowledge of how to prepare a delicious meal. And this is why Miramichiers all the way from the headwaters to the Bay keep coming back for more.
Mac's Seafood Market has been overwhelmed by the warm welcome they've received from Miramichiers since they opened and they want to thank all their clients. The steady increase in customers, repeat visitors and excellent reviews on their Facebook page motivate the folks at Mac's to work even harder to provide the products, service and value that you've come to expect. Check out their Facebook page and you'll find glowing reviews from their customers. If you haven't already enjoyed the experience of shopping at Mac's we invite you to do so, then you too can share your thoughts with others on Mac's Seafood Market Facebook page.
Mac's is a seafood market that offers a variety of fine Atlantic and international seafood that is ethically sourced from trusted suppliers. They also offer value added items such as bacon wrapped scallops, Coquilles Saint-Jacques, breaded and buttered haddock, fish cakes, salmon cakes, salted cod and more! Many local restaurants are now serving Mac's products at the continued requests of their customers.
Mac's Seafood Market is a local business with strong community involvement. They support and give back to community at every available opportunity, starting with the Miramichi Tall Ships Festival and the Pirates of Halifax. The Mac's Silent Santa, an old fashioned Christmas family fun night, and now with the Hospital Foundation fundraiser where they're providing a dinner for six prepared by a recognized local chef which will be served up by the Mac's Seafood staff in the comfort of the winner's own home. As you can see Mac's Seafood Market loves putting smiles on the faces of Miramichiers of all ages.
One thing's for certain, Miramichiers really love having year-round access to terrific seafood and Mac's Seafood Market is open seven days a week to better serve our community!
To show their appreciation for the support of their friends and neighbours, Mac's is offering DOOR CRASHER SPECIALS Monday through Wednesday from 9 am until 12 noon. Each day a different special will be featured, from salmon cakes and cod fillets to shrimp and much more!
In closing the management and staff would once again like to thank everyone who has come through their doors and cannot wait to meet those who have yet to grace their doorstep.
Mac's Seafood Market, three doors down from the Dollar Store at 1730 Water Street, is open seven days a week for your convenience. For more information or to view their specials visit their website at www.MacsSeafood.ca.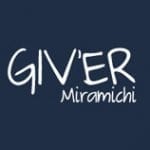 Giv'er Miramichi is about "What's up, what's new, what's happening". We are focused on building people up, supporting one another and celebrating our successes.