by Margaret Young, RD, MSc
Sobeys Registered Dietitian
Let's change the way we think about snacks. For many, snacking means late night chips and pop in front of the TV or a sweet treat at the coffee shop. But snacks, done right, can make you more productive, energetic and alert. And if weight loss is your New Year's resolution, the right snacks can help you reach your goal.
Save Room for Snacks
Small snacks give you a boost of energy and might just save you some calories at your next meal. If you come to the table overly hungry, you tend to eat more, eat too quickly and find it harder to make healthy choices. A small snack can help control your hunger so you eat less at meals. Plan a snack if your meals are 4-6 hours apart. A yogurt at 3 pm can help you resist the temptation of ice cream at 6 pm.
Put snacks on your grocery list. If your fridge and cupboards are stocked with healthy choices, you are more likely to eat them.
Choose snacks that count as servings from the food groups in Canada's Food Guide. Have snacks with 1 or 2 food groups depending on the amount of time between your meals. You may not need full servings. You can get a copy of the Food Guide on the Health Canada website at www.hc-sc.gc.ca.
Beware of Empty Calories
Limit snacks that are high in calories, fat or sugar to only special occasions. You may think you are eating a snack but it really might be a meal's worth of calories.
Be careful of these empty calorie foods:
Baked goods such as cakes, pies, cookies, doughnuts or large muffins.
Snack foods like candy, chocolate bars, chips or cheesies.
Munchies like chicken wings, nachos, potato skins or mozza sticks.
Super Snacks
Think outside the box of granola bars! There are lots of options for a quick snack on the run. With a few minutes of prep work and the right containers (different sized plastic bags, glass and plastic containers with tight fitting lids) you can have healthy snacks that are ready to go.
Try one of these healthier snack ideas:
Small homemade muffin
Vegetables and lower fat dip
Fresh fruit with yogurt dip
Wholegrain crackers with peanut butter, light cheese or hummus
Air popped or light popcorn
Lower fat Greek yogurt
Unsalted nuts or seeds
Hard boiled egg
Homemade trail mix made with higher fibre cereal, dried fruit and nuts
Happy New Year … and happy snacking!
To learn more about healthy eating or for information on the FREE classes Margaret offers at Sobeys, call 778-2404 or email .
Like Sobeys Dietitians on Facebook for great recipes and nutrition tips.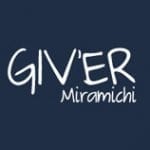 Giv'er Miramichi is about "What's up, what's new, what's happening". We are focused on building people up, supporting one another and celebrating our successes.