Bistro 140: Always a Wonderful Dining Experience
by Kellie Underhill
Bistro 140 in the Newcastle downtown is my "go to" restaurant. All the options are amazing but the daily specials are so yummy, you don't even need to see the full menu. The decor of local photography against a backdrop of hardwood and dark linen make for an artistic friendly atmosphere I appreciate.
Since I turned vegetarian I've found many restaurants don't have options for me, but the Bistro makes everything fresh when ordered and are very accommodating of diet restrictions. I've been there with a friend who is gluten intolerant and loves the rice pasta.
On a recent visit for dinner I noticed new items on the menu like BBQ Pork Ribs, a 10 oz. NY Striploin, Fish Tacos, Rosemary Chicken, Goat Cheese Linguine, a Bistro Burger, and Steak Panini. The ambiance was lovely with soft lighting and jazz standards lightly playing. Our meal began with feta tomato Bruschetta and the house red wine. I'm a bit of a connoisseur and both were excellent.
Our main courses consisted of Eggplant Parmigiana and a Seafood Platter. Again, both were excellent. I love the little touches like fresh ground pepper and fresh grated Parmesan cheese.
I can never leave without having a drumstick square for dessert, it's just that good! We also sampled a pan seared pound cake that was delicious.
Despite the restaurant being quite busy our waitress looked after us well. She said they now have a room available for private parties and conferences, and soon they're expanding with the Mercantile Room, a cozy lounge featuring an international wine list available by glass or bottle and a large selection of cocktail martinis. Other features will be a complimentary appetizer hour called "Appy Hour!" and occasional live entertainment, wine, whiskey and beer tastings. I can't wait!
I'm making a reservation for Valentine's Day now. The Bistro has two sittings and with live entertainment by Paula Foley and Terry Gadsden, this will be the most romantically delicious place in town!
Bistro 140 is located at 295 Pleasant Street on the Town Square. For more information and to like their Facebook page visit www.bistro140.ca. Telephone (506) 622-2221 for reservations.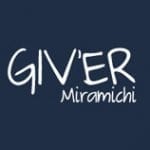 Giv'er Miramichi is about "What's up, what's new, what's happening". We are focused on building people up, supporting one another and celebrating our successes.