February is Black History Month
The following statement was issued by Randy Dickinson, chair of the New Brunswick Human Rights Commission, on the occasion of February being Black History Month:
Black History Month was first celebrated in Toronto 35 years ago and was recognized at the federal level in 1995. It is an excellent opportunity to draw attention to an important but little known aspect of New Brunswick's history.
It is a history that started at the beginning of New Brunswick's colonization. In the early 17th century, Mathieu da Costa, a black interpreter, was an invaluable aide during Samuel de Champlain's expedition of the Bay of Fundy that established Acadia.
During the 1780s, about one-tenth of the Loyalists who founded the future province of New Brunswick were black. Some were slaves brought over by white Loyalists who remained slaves since slavery was not abolished in New Brunswick and most of the British Empire until 1833.
Other black Loyalists were former slaves who had been freed by the British in exchange for fighting during the American Revolution. They had been promised land in New Brunswick, but their land grants either were never made or were smaller and less desirable than promised.
Blacks settled mainly around Saint John, but, until 1870, they were prohibited from living in the city proper unless they were menial labourers or servants. After 1870, they were allowed to live in the city, but were often segregated. For example, there were separate bathrooms for blacks as well as separate seating in churches in Saint John. There were even separate schools because blacks were not allowed to attend white schools. The last separate schools in New Brunswick closed in the early 20th century. The discrimination was not limited to Saint John. Blacks were not allowed to vote for representatives in the legislative assembly until the 1840s and 1850s.
Our shameful history of slavery and segregation should not be forgotten, but we must also remember the positive legacy of so many people who worked hard to advance equality and fairness. Some of these persons have been formally recognized as recipients of the New Brunswick Human Rights Award, including Fred Hodges, Lena O'Ree, Russell McNeilly and Ralph Thomas.
A lifelong resident of Saint John, Hodges faithfully served his community in many ways, but he is perhaps best known for his work in labour organizing and human rights. Hodges became the first black to be elected to public office in his community and was the president of the Saint John Charter of Rights and Civil Liberties group. He was also a member of the human rights commission.
When people told O'Ree that she could not join the YMCA or that she had to use the back door when going to work at the Admiral Beatty Hotel in Saint John, she did not listen. Instead, O'Ree became an active voice in Saint John as she fought for the equality of the black community. She encouraged blacks to become involved in political life, and she was a founding member of Pride of Race through Unity, Dignity and Education (PRUDE Inc.), an advocacy and service group for black, ethnic and newcomer communities in Saint John.
McNeilly immigrated to Canada from Trinidad and became a professor in the faculty of education at the University of New Brunswick in Fredericton. He believed strongly in the power of education and awareness, and he instilled in his students a desire to promote human rights and equality. An educator, writer and activist, McNeilly was a voice for the minorities in his community, and in 1987 he co-founded the Atlantic Human Rights Centre at St. Thomas University.
Thomas is a well-known boxer who has been inducted in a number of sports halls of fame. Since 1997, he has been the president of PRUDE Inc. Thomas was also a founding member of the New Brunswick Black History Society.
Blacks have made important contributions to New Brunswick as trades people, employees, business leaders, educators and clergy. They have been serving in Canada's military since the War of 1812, though at first they were allowed to participate only in segregated units.
Blacks have also excelled in sports. One of the better known is Willie O'Ree, who became the first black player in the National Hockey League.
These are just a few examples of black achievers in New Brunswick; there are countless others.
Black History Month is about education, remembrance and social justice. I encourage New Brunswickers to find out more about this important part of our history, much of which can be found online at the following websites: Black Loyalists in New Brunswick, and Black History Canada.
LINKS:
● New Brunswick Human Rights Commission
● Black Loyalists in New Brunswick
● Black History Canada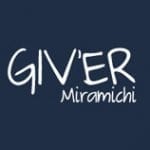 Giv'er Miramichi is about "What's up, what's new, what's happening". We are focused on building people up, supporting one another and celebrating our successes.