Central NB Woodsmen's Museum Offers a Journey Back in Time
The Central NB Woodsmen's Museum in Boiestown offers a unique journey back to a time when the community was a bustling lumbering town.
Fifteen acres of forest land immersed in lumbering legends, ghostly hauntings, folklore, and songs; help you savor the stories of the "Canadian" lumberjack. Their colorful and vibrant lives have been shaped by our majestic forest and the magic of the Miramichi River.
Wandering the Museum buildings, you weave the story of the arrival of Thomas Boies; in 1821, Founder of Boiestown, Mill Owner, and Lumberman. Boiestown became the supply and "jumping-off" place for the lumbering business up and down the Miramichi River.
Stories of the camp cook, teamsters, loggers, lumbermen, stage coach drivers, and the historic Whooper Train are spun throughout the Museum site; tales that are as old as the trees in our Forest.
Stop by for a visit and spin an enchanted tale of your own, a tale that can be passed down from generation to generation, a tale that will lure you back to meet the "Miramichi River People" and the "Characters Carved from our Forest", time and time again!
AND, you can even ride the rails on the Whooper Train!
Visit the Woodmen's Museum at www.woodmensmuseum.com and Discover Miramichi at www.discovermiramichi.com.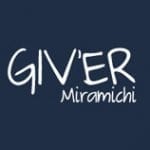 Giv'er Miramichi is about "What's up, what's new, what's happening". We are focused on building people up, supporting one another and celebrating our successes.