The Alzheimer Society of New Brunswick is proud to present the 19th annual Coffee Break fundraising campaign during the month of September! 'Coffee Breaks' are easy, enjoyable and practical and help us to continue to support those impacted by Alzheimer's disease. We supply all the materials and the funds you raise stay in your own community. The funds raised enable the Alzheimer Society of New Brunswick to continue providing education and support services to those living with Alzheimer's disease and dementia, as well as to their caregivers, families, and support networks in our own communities.
Why should I host a Coffee Break?
Hosting a Coffee Break is a great opportunity for colleagues, family and friends and other members of your community to meet for a cup of coffee while showing their support for those impacted by Alzheimer's and related dementias.
How do I organize a Coffee Break?
To get started, all you need to do is register your group or business and provide a contact name for the event. From here, we will follow up and send ideas on how to organize the event, posters to promote the event in your group or business and tips on how to make the most of your Coffee Break. In September we will deliver all of the necessary supplies to host your own successful Coffee Break at your group or business at no cost to you.
While you enjoy your coffee think about the cause.
Currently, over 750,000 Canadians are living with Alzheimer's disease or a related dementia. The province of New Brunswick will be especially impacted by the rising tide of dementia, being the second oldest aging population in Canada. There are approximately 14,000 people living with dementia and 2,500 new cases develop within the next year in this province alone. Unless we find a way to stop this disease, within the next 25 years those diagnosed with Alzheimer's disease will more than double to approximately over 1.4 million Canadians.
Bring your favourite mug and join us during the month of September for our 19th annual Coffee Break. Together we can make every cup count!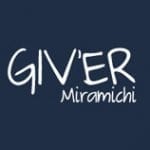 Giv'er Miramichi is about "What's up, what's new, what's happening". We are focused on building people up, supporting one another and celebrating our successes.